101 Strings Orchestra - The Great Strauss Waltzes (1993) lossless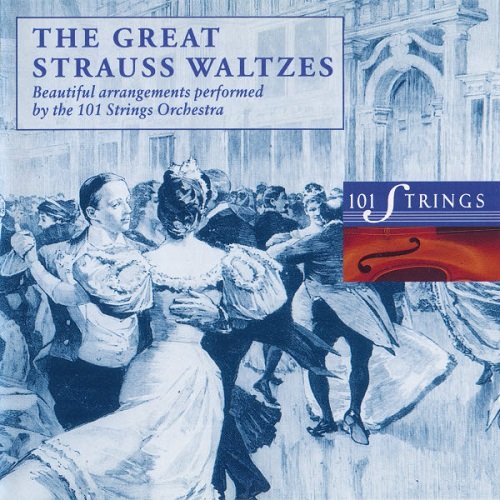 Artist:
101 Strings Orchestra
Title Of Album:
The Great Strauss Waltzes
Release Date:
1993
Location:
Germany
Label:
Emporio (EMPRCD015)
Genre:
Easy Listening, Instrumental, Classical
Quality:
WavPack (image+.cue+covers)
Length:
01:04:59 min
Tracks:
18
Total Size:
407 MB (+5%)
101 Strings Orchestra
was a brand for a highly successful easy listening symphonic music organization, with a discography exceeding 150 albums and a creative lifetime of around 30 years beginning in 1957. 101 Strings had a trademark sound, focusing on melody with a laid-back ambiance most often featuring strings. Their LPs were individualized by the slogan "The Sound of Magnificence", a puffy cloud logo and sepia-toned photo of the orchestra. The 101 Strings orchestra included 124 string instruments, and was conducted by Wilhelm Stephan. The orchestra's famous official photograph was taken in the Musikhalle Hamburg.
Tracklist:
01. Tales From The Vienna Woods (Geschichten Aus Dem Wienerwald Op.325) (3:48)
02. Blue Danube Waltz (An Der Schonen Blauen Donau Op.314) (3:29)
03. Emperor Waltz (Kaiserwalzer Op.437) (4:29)
04. Treasure Waltz (Schatz Op.418) (5:26)
05. Perpetual Motion (Perpetuum Mobile Op.257) (2:56)
06. Die Fledermaus (Overture To Die Fledermaus) (4:24)
07. Roses From The South (Rosen Aus Dem Süden Op.388) (3:32)
08. Wine, Women And Song (Wein Weib Und Gesang Op. 333) (3:32)
09. Acceleration Waltz (Accelerationen Op.234) (3:19)
10. Thousand And One Nights (Tausend Und Eine Nacht Op.346) (6:07)
11. An Artist's Life (Kunstlerleben Op.316) (3:29)
12. Village Swallows (Dorfschwalben Aus Österreich Op.164) (2:59)
13. Tric Trac Waltz (Tritsch-Tratsch Op.214) (2:55)
14. Voices Of Spring (Fruhlingsstimmen Op.410) (5:01)
15. Radetsky Waltz (Radetzky Marsch Op.228) (2:29)
16. Tennessee Waltz (Tennessee) (2:24)
17. Pizzicato Waltz (Pizzicato Polka) (1:52)
18. Hawaiian Magic Waltz (Hawaiian Zauber) (2:39)
Password:
morpeh
Скачать mp3 этого исполнителя. ВСЕ полные альбомы + хиты 2019 Совершенно бесплатно!
Скачать 101 Strings Orchestra - The Great Strauss Waltzes (1993) lossless mp3 бесплатно:
1.
Скачать/Download 101 Strings Orchestra - The Great Strauss Waltzes (1993) lossless
Mp3passion.net Facebook.com Vkontakte.ru
Информация
Посетители, находящиеся в группе Guest, не могут оставлять комментарии к данной публикации.
Уважаемый посетитель, Вы зашли на сайт как незарегистрированный пользователь.
Мы рекомендуем Вам зарегистрироваться либо войти на сайт под своим именем.