Styx - The Mission [DVD-Audio] (2018)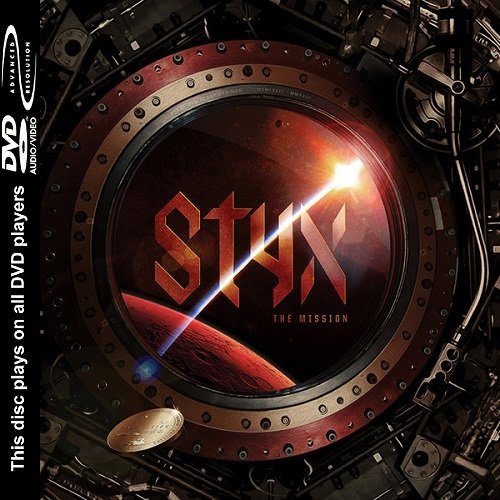 Artist:
Styx
Title Of Album:
The Mission
Release Date:
2018 (2017)
Location:
USA
Label:
UMe (B0028532-00)
Genre:
Classic Rock, Hard Rock
Quality:
DVD-Audio (.iso+covers)
Length:
42:12 min
Tracks:
14
Total Size:
4.81 GB (+5%)
The Mission
is the sixteenth studio album by the band Styx, released on June 16, 2017 through UMe. It is the band's first studio album since 2005's Big Bang Theory and their first release of original material since 2003's Cyclorama. The album reached #45 on the Billboard 200, propelled by pre-sales prior to its official release date, but fell off the chart after 2 weeks. In an era with limited album sales, total U.S. Sales were approximately 15,000 copies, a far cry from the band's triple platinum past. Yet, the album did briefly reach the Top 100 in four other countries. The concept album tells the story of a mission to the planet Mars in the year 2033. The album's story was written by Tommy Shaw and Will Evankovich. Evankovich played a significant role, serving as producer and co-writing all but 1 of the full length tracks.
Tracklist:
01. Overture (1:23)
02. Gone Gone Gone (2:08)
03. Hundred Million Miles (3:40)
04. Trouble At The Big Show (2:30)
05. Locomotive (5:04)
06. Radio Silence (4:17)
07. The Greater Good (4:10)
08. Time May Bend (2:31)
09. Ten Thousand Ways (1:22)
10. The Red Storm (6:04)
11. All Systems Stable (0:18)
12. Khedive (2:04)
13. The Outpost (3:51)
14. Mission To Mars (2:43)
+
01. Gone Gone Gone [video] (2:08)
02. Radio Sllence [video] (4:17)
03. Breaking Through [video] (2:25)
Line-up / Musicians:

- James Young / guitar, vocals
- Tommy Shaw / acoustic & electric guitars, mandolin, vocals
- Lawrence Gowan / piano, Hammond, synth, vocals
- Ricky Phillips / bass guitar
- Chuck Panozzo / bass (3)
- Todd Sucherman / drums, percussion, waterphone

With:
- Will Evankovich / guitar, synth, sounds, producer
Password:
morpeh

Info
Скачать mp3 этого исполнителя. ВСЕ полные альбомы + хиты 2019 Совершенно бесплатно!
Скачать Styx - The Mission [DVD-Audio] (2018) mp3 бесплатно:
1.
Скачать/Download Styx - The Mission [DVD-Audio] (2018)
Mp3passion.net Facebook.com Vkontakte.ru
Информация
Посетители, находящиеся в группе Guest, не могут оставлять комментарии к данной публикации.
Уважаемый посетитель, Вы зашли на сайт как незарегистрированный пользователь.
Мы рекомендуем Вам зарегистрироваться либо войти на сайт под своим именем.