Grimes - Miss Anthropocene (2020) lossless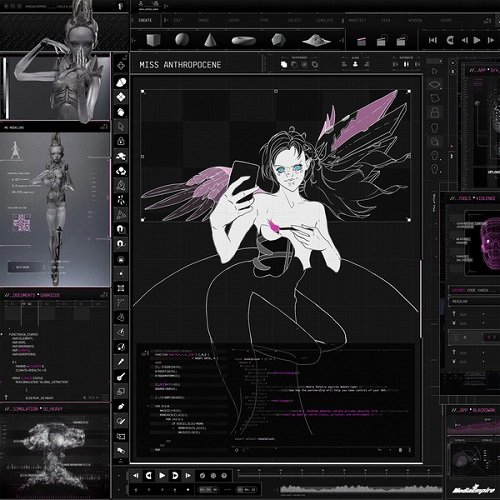 Artist:
Grimes
Title Of Album:
Miss Anthropocene
Release Date:
2020
Location:
Canada
Label:
Crystal Math Music (CM80207CD)
Genre:
Electronic, Synth-pop, Dreampop
Quality:
FLAC (tracks+.cue)
Length:
44:40 min
Tracks:
10
Total Size:
330 MB (+5%)
Miss Anthropocene
is the fifth studio album by Canadian musician Grimes, released on February 21, 2020. It was officially announced on March 19, 2019. The album's name is a pun on the feminine title "Miss", and the words "misanthrope" and "Anthropocene", a neologism popularised in the year 2000 by Paul J. Crutzen that was proposed to denote the current geological age the Earth is in. The album is a loose concept album about an "anthropomorphic goddess of climate change" inspired by Roman mythology and villainy. Miss Anthropocene is Grimes' final album on record label 4AD, to which she has been signed since 2012. The album is darker in style than Grimes' 2015 album Art Angels, containing inspiration from the sounds of industrial music.
Tracklist:
01. So Heavy I Fell Through the Earth (Art Mix) (06:08)
02. Darkseid [Featuring – 潘PAN] (03:44)
03. Delete Forever (03:57)
04. Violence [Featuring – i_o] (03:40)
05. 4ÆM (04:30)
06. New Gods (03:15)
07. My Name is Dark (Art Mix) (05:56)
08. You'll miss me when I'm not around (02:41)
09. Before the fever (03:37)
10. IDORU (07:12)
Password:
morpeh
Скачать mp3 этого исполнителя. ВСЕ полные альбомы + хиты 2019 Совершенно бесплатно!
Скачать Grimes - Miss Anthropocene (2020) lossless mp3 бесплатно:
1.
Скачать/Download Grimes - Miss Anthropocene (2020) lossless
Mp3passion.net Facebook.com Vkontakte.ru
Информация
Посетители, находящиеся в группе Guest, не могут оставлять комментарии к данной публикации.
Уважаемый посетитель, Вы зашли на сайт как незарегистрированный пользователь.
Мы рекомендуем Вам зарегистрироваться либо войти на сайт под своим именем.