Berliner Philharmoniker, Simon Rattle - Schumann: Symphonies Nos. 1-4 (2014) [Blu-Ray Audio]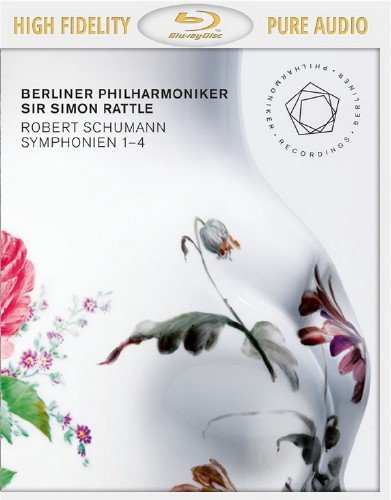 Artist: Berliner Philharmoniker, Simon Rattle
Title: Schumann: Symphonies Nos. 1-4
Year Of Release: 2014
Label: Berliner Philharmoniker Recordings
Genre: Classical
Quality: MPEG-4 AVC Video, 950 kbps, 1080i, 29.970 fps / German LPCM 2.0, 48 kHz, 1536 kbps / German DTS-HD MA 5.0, 48 kHz, ~2250 kbps
Total Time: 02:05:32
Total Size: 42,9 Gb
For Simon Rattle, Robert Schumann is "the echt Romantic". And in fact, the exuberance of the period, its passion and its melancholy can be heard with unique intensity in Schumann's music to this day. For the Berliner Philharmoniker, Schumann's symphonies have always been part of their core repertoire. The 1953 Wilhelm Furtwangler recording in particular has attained cult status. And so it only stands to reason that the Berliner Philharmoniker should launch their Berliner Philharmoniker Recordings label with a cycle of the four Schumann symphonies.
The symphonies are available as a 2-CD + Blu-ray edition and as a limited vinyl collector's edition. Both versions include a free voucher for a high resolution download of the four symphonies. The download can also be purchased separately by those who only wish to have the digital files. Moreover, the cycle is released on CD. The hardcover digipack includes two hybrid SACDs which can be played on any CD or SACD player.
TRACKLIST:
Symphony No. 1 in B flat major, op. 38 "Spring"
I. Andante un poco maestoso – Allegro molto vivace
II. Larghetto –
III. Scherzo
IV. Allegro animato e grazioso
Symphony No. 4 in D minor, first version from 1841
I. Andante con moto – Allegro di molto
II. Romanza: Andante
III. Scherzo
IV. Finale: Allegro vivace
Symphony No. 2 in C major op. 61
I. Sostenuto assai – Allegro, ma non troppo
II. Scherzo
III. Adagio espressivo
IV. Allegro molto vivace
Symphony No. 3 in E flat major op. 97 "Rhenish"
I. Lebhaft
II. Scherzo
III. Nicht schnell
IV. Feierlich
V. Lebhaft
Bonus Video:
• Sir Simon Rattle on Robert Schumann and his symphonies
• Behind the scenes: the recordings in the Berlin Philharmonie
• About the Digital Concert Hall of the Berliner Philharmoniker
Скачать mp3 этого исполнителя. ВСЕ полные альбомы + хиты 2019 Совершенно бесплатно!
Скачать Berliner Philharmoniker, Simon Rattle - Schumann: Symphonies Nos. 1-4 (2014) [Blu-Ray Audio] mp3 бесплатно:
Mp3passion.net Facebook.com Vkontakte.ru
Информация
Посетители, находящиеся в группе Guest, не могут оставлять комментарии к данной публикации.
Уважаемый посетитель, Вы зашли на сайт как незарегистрированный пользователь.
Мы рекомендуем Вам зарегистрироваться либо войти на сайт под своим именем.