VA - Rage 30: Celebrating thirty years of R-R-R-R-Rage! [3CD Box Set] (2017)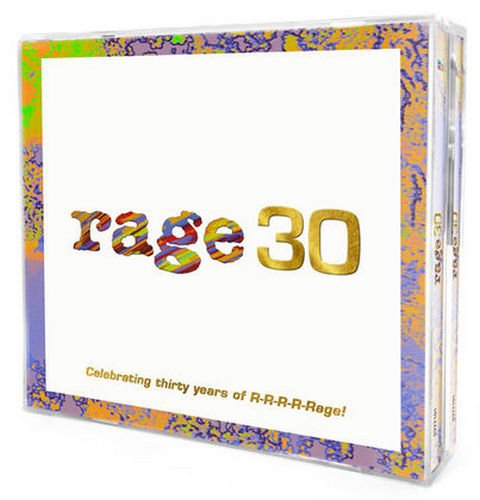 Artist
: Various Artists
Title Of Album
: Rage 30: Celebrating thirty years of R-R-R-R-Rage!
Year Of Release
: 2017
Label (Catalog#)
: ABC Music/Universal [5377101]
Genre
: Alternative, Indie, Punk, Pop, Rock, Electronic
Quality
: Mp3 / FLAC (tracks +.cue,log,scans)
Bitrate
: CBR 320 kbps / Lossless
Time
: 3:42:03
Full Size
: 570 mb / 1.62 gb
This massive compilation features standout tracks from across the three decades Rage has been on air. Songs that have resonated with fans and artists covering all genres, ages, genders and nationalities; it's the definitive Rage collection!

The rainy nights staying in, the drunken stumbles home, the house party-starter, the soundtrack to morning muesli – Rage means something different to everyone. The late-night television mainstay has entertained generations of Australians, providing a musical education and a window into a world of colour and artistry that is sometimes poetic, sometimes plastic, often raunchy but always fascinating.

As a collection, these songs cross the divide between pop, indie and experimental; Aussie and abroad and legendary to one-hit wonder. What binds these songs, however, are their power to conjure a moment in time, elevated in our memories by their accompanying visuals.

Consider the depictions of suburban and outback life in "Streets of Your Town" and "My Island Home", songs that are as etched into this nation as the earth itself. Off-beat anthems like "Laid", or "Detachable Penis", with its equally off-beat clip directed by Richard Kern, were surely helped along by their videos. And let's not forget Kylie's infamous gold hotpants that had us all "Spinning Around".

More recently, many artists like Sia, Tame Impala and Vance Joy are opting for anonymity by not appearing in their videos, allowing the visuals to take a life of their own. As directors enjoy the spoils of increasingly sophisticated video techniques, the results push the format of the music video in exciting new directions. Is Tropical's "Dancing Anymore" or "Gosh" by Jamie xx simply could not have been made any earlier than they were.

Dancing across three discs that capture each decade of Rage's thirty years on television, these songs will make you sing along, cringe along, and relive fashions that, depending on your persuasion, are either fondly remembered or best forgotten. Looking forward, we're also proud to celebrate some of the current artists creating memories for our future selves.

Long may the music live on, and may the RAGE forever be maintained, too!
TRACKLIST:CD 1: 1987-1996
1. M/A/R/R/S – Pump Up The Volume
2. Warumpi Band – My Island Home
3. The Go-Betweens – Streets Of Your Town
4. Cocteau Twins – Carolyn's Fingers
5. Soul II Soul – Back To Life (However Do You Want Me)
6. Kate Ceberano – Bedroom Eyes
7. Faith No More – Epic
8. Euphoria – Love You Right
9. Yothu Yindi – Treaty
10. The Clouds – Hieronymus
11. King Missile – Detachable Penis
12. James – Laid
13. Frente! – Bizarre Love Triangle
14. Pulp – Disco 2000
15. Christine Anu – Party
16. Spiderbait – Calypso
17. OMC – How Bizarre
18. Nada Surf – Popular
CD 2: 1997-2006
1. Smoke City – Underwater Love
2. Natalie Imbruglia – Torn
3. TISM – Whatareya?
4. Hole – Malibu
5. The Mavis's – Cry
6. Josh Abrahams & Amiel Daemion – Addicted To Bass
7. Bomfunk MC's – Freestyler
8. Korn – Freak On A Leash
9. Len – Steal My Sunshine
10. Madison Avenue – Don't Call Me Baby
11. Ol' Dirty Bastard – Got Your Money (feat. Kelis)
12. Kylie Minogue – Spinning Around
13. Basement Jaxx – Where's Your Head At
14. Sophie Ellis-Bextor – Murder On The Dancefloor
15. Gerling – Dust Me Selecta
16. Missy Elliott – Get Ur Freak On
17. Junior Senior – Move Your Feet
18. Britney Spears – Toxic
19. OutKast – Prototype
20. Wolfmother – Woman
CD 3: 2007-2016
1. The Presets – My People
2. PNAU – Wild Strawberries
3. MGMT – Electric Feel
4. Bag Raiders – Shooting Stars
5. El Guincho – Bombay
6. Hot Chip – I Feel Better
7. Janelle Mon?e – Tightrope
8. St. Vincent – Cruel
9. Grimes – Oblivion
10. Vance Joy – Riptide
11. Is Tropical – Dancing Anymore
12. Beach House – Wishes
13. Kirin J Callinan – Landslide
14. Movement – Ivory
15. Sia – Chandelier
16. Girl Band – Why They Hide Their Bodies Under My Garage?
17. Tame Impala – Let It Happen
18. Jamie xx – Gosh
Скачать mp3 этого исполнителя. ВСЕ полные альбомы + хиты 2019 Совершенно бесплатно!
Скачать VA - Rage 30: Celebrating thirty years of R-R-R-R-Rage! [3CD Box Set] (2017) mp3 бесплатно:
Mp3passion.net Facebook.com Vkontakte.ru
Информация
Посетители, находящиеся в группе Guest, не могут оставлять комментарии к данной публикации.
Уважаемый посетитель, Вы зашли на сайт как незарегистрированный пользователь.
Мы рекомендуем Вам зарегистрироваться либо войти на сайт под своим именем.