Ramones - Loco Live (1991)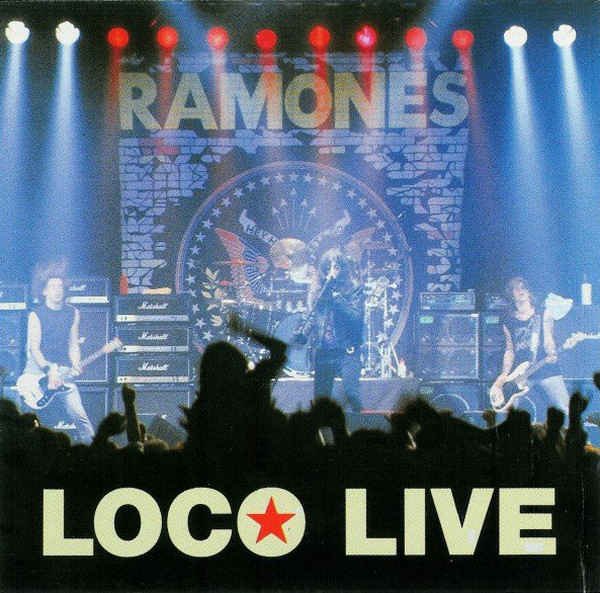 Artist
: Ramones
Title Of Album
: Loco Live
Year Of Release
: 1991
Label (Catalog#)
: Chrysalis [3219012]
Country
: United States
Genre
: Punk Rock
Quality
: Mp3 / FLAC (*tracks +.cue,log,scans)
Bitrate
: CBR 320 kbps / Lossless
Time
: 69:53
Full Size
: 196 mb / 516 mb
WebSite
:
Album Preview
Between 1976 and 1978, the Ramones could seemingly do no wrong, and It's Alive, the album that preserved their 1977-going-on-1978 New Year's Eve show in London for the ages, captured the pride of Forest Hills at the peak of their form, turning three-chord downstroke into the stuff of magic. By 1990, the band's albums were generally good but not great, and it seemed as if their days of studio glory were behind them. But anyone who ever saw the Ramones live will tell you that right up to the end, they never failed to deliver on-stage, and if Loco Live isn't quite up to the same level as It's Alive, it proves these guys always gave their fans the sweat, muscle, and cool tunes they came to see. The buzz of Johnny Ramone's guitar is still gloriously relentless, Joey yelps like he means it (and if he has a little more to say between songs, most of it's cool), Marky remains King of the Big Beat, and C.J. plays at least as well as Dee Dee (and is nearly as good at yelling "wuntootreeFAH!"). And if the presence of "Mama's Boy," "Someone Put Something in My Drink," and "I Believe in Miracles" don't exactly give Loco Live an edge over the first-three-albums set list of It's Alive, the truth is nearly all the newer songs sound stronger (and faster) on-stage, and the old stuff is, as always, a joy to behold. If you're going to buy a Ramones live album, the blazing It's Alive is the one to get, but Loco Live proves these old soldiers never gave up the fight -- 13 years on, they were still loud and proud, and you can't help but love 'em for it.
TRACKLIST:
1 The Good, The Bad, The Ugly 1:49
2 Durango 95 0:48
3 Teenage Lobotomy 1:32
4 Psycho Therapy 1:57
5 Blitzkrieg Bop 1:36
6 Do You Remember Rock & Roll Radio? 3:00
7 I Believe In Miracles 2:51
8 Gimme Gimme Shock Treatment 1:13
9 Rock & Roll High School 1:51
10 I Wanna Be Sedated 2:07
11 The KKK Took My Baby Away 2:08
12 I Wanna Live 2:17
13 Bonzo Goes To Bitburg 2:51
14 Too Tough To Die 2:14
15 Sheena Is A Punk Rocker 1:46
16 Rockaway Beach 1:31
17 Pet Semetary 2:57
18 Don't Bust My Chops 2:18
19 Palisades Park 1:53
20 Mama's Boy 1:56
21 Animal Boy 1:58
22 Wart Hog 1:33
23 Surfin' Bird 2:33
24 Cretin Hop 1:25
25 I Don't Wanna Walk Around With You 1:12
26 Today Your Love 1:39
27 Pinhead 1:55
28 Somebody Put Something In My Drink 2:35
29 Beat On The Brat 2:13
30 Judy Is A Punk 1:07
31 Chinese Rocks 2:01
32 Love Kills 1:54
33 Ignorance Is Bliss 2:34
Joey Ramone - lead vocals
Johnny Ramone - guitar
C. J. Ramone - bass, backing vocals, lead vocals on "Wart Hog" and "Love Kills"
Marky Ramone - drums
Скачать mp3 этого исполнителя. ВСЕ полные альбомы + хиты 2019 Совершенно бесплатно!
Скачать Ramones - Loco Live (1991) mp3 бесплатно:
Mp3passion.net Facebook.com Vkontakte.ru
Информация
Посетители, находящиеся в группе Guest, не могут оставлять комментарии к данной публикации.
Уважаемый посетитель, Вы зашли на сайт как незарегистрированный пользователь.
Мы рекомендуем Вам зарегистрироваться либо войти на сайт под своим именем.