Bernhoft - 1: Man 2: Band (2010)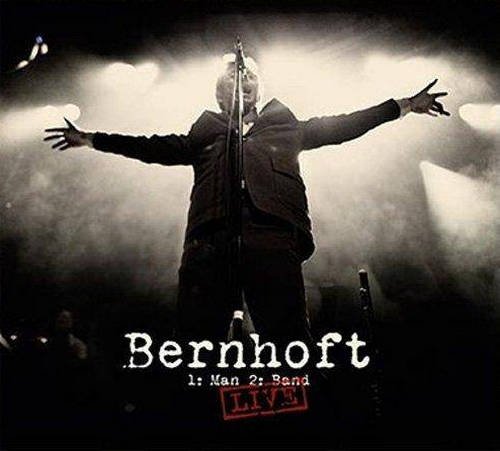 Artist
: Bernhoft
Title Of Album
: 1: Man 2: Band
Year Of Release
: 2010
Label (Catalog#)
: Kikitepe Cassette/Universal Music [602527309477]
Country
: Norway
Genre
: Soul, Jazz, Blues, Pop
Quality
: Mp3 / FLAC (*tracks +.cue,log,scans)
Bitrate
: CBR 320 kbps / Lossless
Time
: 1:43:21
Full Size
: 248 mb / 721 mb
Bernhoft :
- Helu.
In January 2010 a double live album called '1: Man 2: Band' is released, again with some proNorwegian bias (seriously, I try to avoid this protectionism, but music bisnis is like a cage)
Some of the gigging you can hear and see here even, marvellous high tech possibilities indeed.
I'm writing some new songs too. Some will be available for your sensitive and sensible ears here as they pop out of my cynical brain.
Oslo will still be there in some songs I think. So will love of women and cats, fear of many kinds of darkness, religion and lack of thereof, space, wood, lust, longing, France, the Devil, pigeons and the like.
Squeeze it, but don't hit it. Wear it on your wrist, but don't lick it.
On the other hand, it might be impolite not to taste it.
TRACKLIST:CD 1: Man
01. Ever Since I was A Little Kid (04:57)
02. On Time (05:30)
03. Sunday (6:25)
04. Fly Away (06:33)
05. Streetlights (04:15)
06. Tickly Foot (Improvised) (08:07)
07. He Ain't Heavy, He's My Brother ( 05:38)
08. So Many Faces (05:29)
09.A Bad Place To Reside (03:17)
CD 2: Band
01. On Patience (04:48)
02. Rats & Raccoons (04:16)
03. So Many Faces (05:43)
04. Sing Hello And Some More ( 06:23)
05. On Individuality (02:56)
06. Prayer To A Landlord ( 07:37)
07. Firm & Deep (07:04)
08. In The Street Where The World Passes Me By (07:56)
09. Them Changes (06:28)
1: Man
Jarle Bernhoft - vocals, guitar, synthesizer, beats
2: Band
Jarle Bernhoft - Vocals, Guitars, Effects, Flute, Keyboard
Hedvig Mollestad Thomassen, Guitar, Vocals
Line Horntvedt - Percussion, Flute, vocals
David Wallumr?d - Wurlitzer, Hammond Organ, Clavinette
Audun Erlien - Bass
Martin Windstad - Percussion
Torstein Lofthus - Drums
Скачать mp3 этого исполнителя. ВСЕ полные альбомы + хиты 2019 Совершенно бесплатно!
Скачать Bernhoft - 1: Man 2: Band (2010) mp3 бесплатно:
Mp3passion.net Facebook.com Vkontakte.ru
Информация
Посетители, находящиеся в группе Guest, не могут оставлять комментарии к данной публикации.
Уважаемый посетитель, Вы зашли на сайт как незарегистрированный пользователь.
Мы рекомендуем Вам зарегистрироваться либо войти на сайт под своим именем.