VA - Boogie Chillen - Early Mods' First-Choice Vinyl [3CD Box Set] (2013)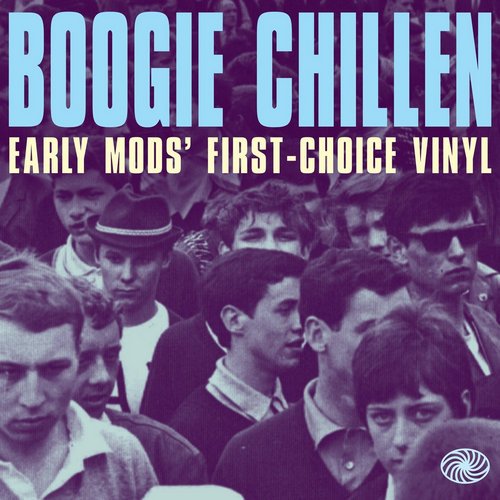 Artist
: Various Artists
Title Of Album
: Boogie Chillen - Early Mods' First-Choice Vinyl
Year Of Release
: 2013
Label (Catalog#)
: Fantastic Voyage [FVDV156]
Genre
: Soul, Rhythm & Blues, Boogie, Blues Rock
Quality
: Mp3 / FLAC (tracks)
Bitrate
: CBR 320 kbps / Lossless
Time
: 3:21:27
Full Size
: 484 mb / 818 mb
WebSite
:
Album Preview
Yet despite its enduring popularity, the music that inspired the original mod stylists has remained largely undocumented. Boogie Chillen sets to put the record straight, collecting 75 of the most popular and influential tracks on the burgeoning mod scene of the early sixties. Annotated and compiled by first generation mod, Rob Nicholls, the 3CD set takes a musical journey, highlighting an array of classic R&B, jazz and rock & roll classics that found favour among those considered Britain's coolest youths.
Fantastic 3CD collection with: John Lee Hooker, Muddy Waters, Link Wray, The Miracles, Ray Barretto and many many more....

The most enlightening and informative mod collection yet to see issue, Boogie Chillennot only provides a fascinating history lesson, but also delivers a compelling 3 ½ hours of great music.

At the start of the sixties, Britain bore witness to a new, brash youth movement, which up until the onset of hippy-dom later that decade, dominated the country's fashion and musical landscape. These young modernists embraced a smart, stylish look along with the coolest sounds emanating from the US, and later, Jamaica. While the subculture eventually faded from British mainstream consciousness, it has never disappeared altogether, attracting new followers worldwide with each new generation.

Disc One features recordings from 1952 through to 1960, from the elemental electric blues of John Lee Hooker, Slim Harpo and Elmore James, to the jazz grooves of Cannonball Adderley, via the rock & roll of Link Wray and Dale Hawkins. There are R&B cuts of all shades, from the New Orleans sounds of Huey Smith and Frankie Ford to the polished sound of Lloyd Price. Discs Two and Three concentrates on the early 1960s, presenting sounds that were contemporaneous with the blossoming mod club scene. The net is cast wide to include James Brown, early Motown and Stax sides, the Latin jazz of Ray Barretto and the sophisticate vocals of Mel Torme. It's this variety of styles that sets Boogie Chillen apart from other mod compilations: the early mod scene embraced all forms of popular music – from Neil Sedaka to Booker T & The MG's – as long as it satisfied the discerning early mods' taste for cool grooves and rocking rhythms.
TRACKLIST:
01. John Lee Hooker - Walkin' the Boogie
02. Muddy Waters - I Just Want to Make Love to You
03. James Elmore - Dust My Blues
04. Clarence Frogman Henry - Ain't Got No Home
05. Bo Diddley - Who Do You Love?
06. Dale Hawkins - Susie-Q
07. Jackie Wilson - Reet Petite (The Finest Girl You Ever Want to Meet)
08. Slim Harpo - I'm a King Bee
09. Thurston Harris - Little Bitty Pretty One
10. Various Artists - Don't You Just Know It
11. The Johnny Otis Show - Willie and the Hand Jive
12. Lazy Lester - I'm a Lover Not a Fighter
13. Clyde McPhatter - A Lover's Question
14. Link Wray & His Ray Men - Rumble
15. Mose Allison - Parchman Farm
16. Lloyd Price - Stagger Lee
17. Frankie Ford - Sea Cruise
18. Dee Clark - Hey Little Girl
19. The Fiestas - So Fine
20. Johnny & The Hurricanes - Red River Rock
21. Neil Sedaka - One Way Ticket (To the Blues)
22. The Coasters - I'm a Hog for You
23. Marv Johnson - You Got What It Takes
24. Howlin' Wolf - Tell Me
25. The Cannonball Adderley Quintet - Work Song
26. Buster Brown - Fannie Mae
27. The Miracles - Shop Around
28. Rosco Gordon - Just a Little Bit
29. Carla Thomas - Gee Whiz (Look At His Eyes)
30. Brook Benton - Kiddio
31. Jessie Hill - Ooh Poo Pah Doo, Pts. 1 & 2
32. James Brown - I'll Go Crazy
33. Joe Jones - You Talk Too Much
34. Hank Ballard - Let's Go, Let's Go, Let's Go
35. Bill Black's Combo - My Girl Josephine
36. Jimmy Reed - Big Boss Man
37. Ray Charles - One Mint Julep
38. Ernie K-Doe - Mother-in-Law
39. The Shirelles - Mama Said
40. Bo Diddley - Pills
41. Bobby Bland - Turn On Your Love Light
42. Chuck Berry - Come On
43. Ray James - If You Gotta Make a Fool of Somebody
44. Gary U.S. Bonds - Quarter to Three
45. Chubby Checker - The Twist
46. Lee Dorsey - Do-Re-Mi
47. Ike & Tina Turner - It's Gonna Work Out Fine
48. The Impressions - Gypsy Woman
49. Howlin' Wolf - Down in the Bottom
50. The Showmen - It Will Stand
51. Don & Bob - Good Morning Little Schoolgirl
52. Bobby Parker - Watch Your Step
53. Arthur Alexander - You Better Move On
54. James Brown - Night Train
55. The Isley Brothers - Twist and Shout
56. Bunker Hill - Hide and Go Seek, Pt. 1
57. Bob B. Soxx & The Blue Jeans - Zip-a-Dee Doo-Dah
58. Wilbert Harrison - Let's Stick Together
59. Clyde McPhatter - Lover Please
60. The Cookies - Chains
61. Chuck Jackson - I Keep Forgettin'
62. Homesick James - Crossroads
63. Don Gardner - I Need Your Loving
64. Chris Kenner - Land of 1000 Dances
65. Booker T & The MG's - Green Onions
66. Mary Wells - You Beat Me to the Punch
67. Lightnin' Slim - Mind Your Own Business
68. The Drifters - When My Little Girl Is Smiling
69. Benny Spellman - Fortune Teller
70. Richie Barrett - Some Other Guy
71. The Cascades - Rhythm of the Rain
72. Jimmy Smith - Walk On the Wild Side
73. Willie Mabon - Got to Have Some
74. Ray Barretto - El Watusi
75. Mel Torme - Comin' Home Baby
Скачать mp3 этого исполнителя. ВСЕ полные альбомы + хиты 2019 Совершенно бесплатно!
Скачать VA - Boogie Chillen - Early Mods' First-Choice Vinyl [3CD Box Set] (2013) mp3 бесплатно:
Mp3passion.net Facebook.com Vkontakte.ru
Информация
Посетители, находящиеся в группе Guest, не могут оставлять комментарии к данной публикации.
Уважаемый посетитель, Вы зашли на сайт как незарегистрированный пользователь.
Мы рекомендуем Вам зарегистрироваться либо войти на сайт под своим именем.