VA - How Sweet It Was - The Sights and Sounds of Gospel's Golden Age (2010)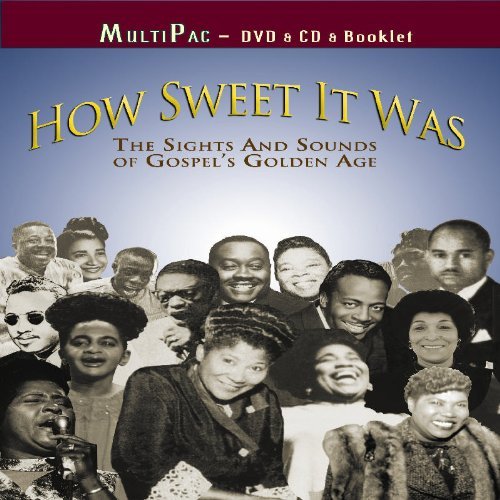 Artist
: Various Artists
Title Of Album
: How Sweet It Was - The Sights and Sounds of Gospel's Golden Age
Year Of Release
: 2010
Label (Catalog#)
: Shanachie [6901-CD]
Genre
: Gospel, Vocal, Rhythm & Blues, Soul/Funk
Quality
: Mp3 / FLAC (tracks +.cue,log,scans)
Bitrate
: CBR 320 kbps / Lossless
Time
: 1:15:50
Full Size
: 225 mb / 442 mb
WebSite
:
Album Preview
A best of the best compilation covering a span of over 40 years. Compiled by Gospel music expert Anthony Heilbut, this exciting multi-facted package offers great film of Gospel icons as well as many all-time classic music tracks. The 26 track CD covers the period of the 1940s through the 1960s and features many all time greats such as: Mahalia Jackson, Rosetta Tharpe, Marion Williams, Swan Silvertones, Clara Ward, Five Blind Boys of Mississippi, Soul Stirrers, Dixie Hummingbirds and much more including 9 previusly unissued performances. The DVD, also 26 tracks, features a comparable all-star lineup (filmed in the early 1960s) including: James Cleveland, Alex Bradford, Rosetta Tharpe, Marion Williams, Soul Stirrers, Sensational Nightingales and many more. A 32-page booklet includes biographical notes, a Gospel music history overview (both written by Anthony Heilbut) and many rare period photos.
TRACKLIST:
1. Stand By Me - Sister Rosetta Tharpe (1941)
2. I Am Bound For Canaan Land - Silas Steele And The Famous Blue Jay Singers (1947)
3. How Sweet It Is - Professor J. Earle Hines And The St.Paul Baptist Church Choir Of Los Angeles (1948)
4. No Room At The Inn - The Fairfield Four (1951)
5. Somebody Touched Me - Edna Gallmon Cooke And The Radio Four (1953)
6. My Imagination Of Heaven - Morgan Babb And The Radio Four (1955)
7. He's A High Class Physcian - Marion Williams (1959)
8. I Thank You Lord - R. H. Harris And The Soul Stirrers (1947)
9. I'm Waiting For Jesus - The Georgia Peach And Lois Russell (1947)
10. We Shall Walk Through The Valley - Ernestine B. Washington (1948)
11. medley of Going On With The Spirit - Mahalia Jackson (1952)*
12. Will My Jesus Be Waiting - Archie Brownlee And The Five Blind Boys Of Mississippi (1952)
13. The Pilgrim's Song - Clara Ward (1951)
14. Stand By Me - Imogene Green And The Famous Davis Sisters (1952)
15. I'm Not Uneasy - Ira Tucker And The Dixie Hummingbirds (1953)
16. These Are They - Mahalia Jackson (1952)*
17. medley What Could I Do/Search Me Lord - Brother Joe May (1952)*
18. Satisfied - Eugene Smith And The Roberta Martin Singers (1949)
19. The Angels Keep Watching Over Me - The Caravans (1955)*
20. When The Gates Swing Open - Inez Andrews (1966)
21. John Saw - Reverend Robert Ballinger (1963)
22. Dot's Testimony, Part Two - Dorothy Love Coates (1969)*
23. Coming Home (some distortion) - Dorothy Love And The Original Gospel Harmonettes and Claude Jeter And The Swan Slvertones (?)*
24. The Prodigal Son - Ruth Davis And The Famous Davis Sisters (?)*
25. Jesus Met The Woman At The Well - Sister Rosetta Tharpe (1970)*
26. Something Within Me - Marion Williams (1984)*
*previously unreleased
Скачать mp3 этого исполнителя. ВСЕ полные альбомы + хиты 2019 Совершенно бесплатно!
Скачать VA - How Sweet It Was - The Sights and Sounds of Gospel's Golden Age (2010) mp3 бесплатно:
Новость отредактировал artmuss - 24 ноября 2016
Причина: Re-Up
Mp3passion.net Facebook.com Vkontakte.ru
Информация
Посетители, находящиеся в группе Guest, не могут оставлять комментарии к данной публикации.
Уважаемый посетитель, Вы зашли на сайт как незарегистрированный пользователь.
Мы рекомендуем Вам зарегистрироваться либо войти на сайт под своим именем.