The Bonzo Dog Doo-Dah Band - Let's Make Up & Be Friendly (1972) [Remastered 2007]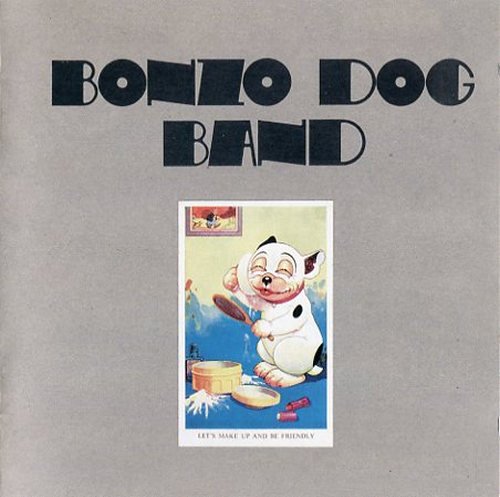 Artist
: The Bonzo Dog Doo-Dah Band
Title Of Album
: Let's Make Up & Be Friendly
Year Of Release
: 2007 [1972]
Label (Catalog#)
: EMI [0946 3 87893 2 1]
Country
: UK
Genre
: Comedy Rock, Psychedelic Pop
Quality
: Mp3 / FLAC (tracks +.cue,log,scans)
Bitrate
: CBR 320 kbps / Lossless
Time
: 1:16:13
Full Size
: 184 mb / 451 mb
2007 digitally remastered and expanded reissue of this 1972 album from the talented yet twisted British musical troupe led by Neil Innes (The Rutles/Monty Python) and Vivian Stanshall featuring bonus tracks.. They started life as The Bonzo Dog Dada Band, then became The Bonzo Dog Doo-Dah Band, and finally, just the Bonzo Dog Band. They were originally seen as a '20's revival act but quickly developed into one of the '60's most virulent satirical acts. Features five bonus tracks: 'Sofa Head', 'I Love To Bumpity Bump', 'Lie Down & Be Counted', 'The Bride Stripped Bare (By The Batchelors)' (Early Version) and 'Government Always Get In' (Demo Version). Neil Innes has written a brief band history and track by track annotation for the artwork of each release. 17 tracks. EMI.
TRACKLIST:
1 The Strain
2 Turkeys
3 King of Scurf
4 Waiting for the Wardrobe
5 Straight from My Heart
6 Rusty (Champion Thrust)
7 Rawlinson End
8 Don't Get Me Wrong
9 Fresh Wound
10 Bad Blood
11 Slush
2007 Bonus Tracks :
12 Sofa Head
13 Jam - Top D Bil
14 I Love to Bumpity Bump - Roger Ruskin Spear
15 Lie Down and Be Counted - Neil Innes
16 The Bride Stripped Bare (by the Bachelors)
17 No Matter Who You Vote for the Government Still Gets In (Demo)
Скачать mp3 этого исполнителя. ВСЕ полные альбомы + хиты 2019 Совершенно бесплатно!
Скачать The Bonzo Dog Doo-Dah Band - Let's Make Up & Be Friendly (1972) [Remastered 2007] mp3 бесплатно:
Mp3passion.net Facebook.com Vkontakte.ru
Информация
Посетители, находящиеся в группе Guest, не могут оставлять комментарии к данной публикации.
Уважаемый посетитель, Вы зашли на сайт как незарегистрированный пользователь.
Мы рекомендуем Вам зарегистрироваться либо войти на сайт под своим именем.