VA - Sun Records: The 50th Anniversary Collection [2CD Box Set] (2002)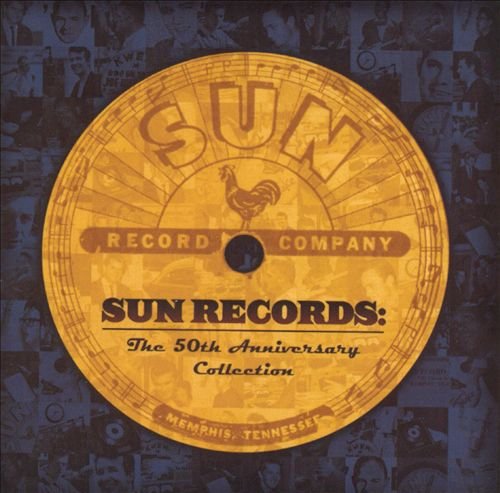 Artist
: Various Artists
Title Of Album
: Sun Records: The 50th Anniversary Collection
Year Of Release
: 2002
Label (Catalog#)
: BMG Heritage [74465 99000 2]
Genre
: Rockabilly, Rhythm & Blues, Rock & Roll
Quality
: Mp3 / FLAC (tracks,scans)
Bitrate
: CBR 320 kbps / Lossless
Time
: 1:52:16
Full Size
: 264 mb / 352 mb
WebSite
:
Album Preview
While best known as the label that launched the careers of Elvis Presley and Jerry Lee Lewis, Memphis-based Sun Records also released literally hundreds of singles that represented some of the best -- and some of the weirdest -- rockabilly, blues, and R&B ever recorded. Sam Phillips's recording studio was a bastion of both creativity and integration, a place where Johnny Cash (represented here with early versions of "I Walk the Line" and "Folsom Prison Blues") could record side by side with Rufus Thomas (whose lascivious "Tiger Man" is prototypical of his down-and-dirty style). This anniversary set collects 44 tunes from Sun's vaults, ranging from the out-of-control (like Billy Lee Riley's legendary rockabilly rave-up "Flying Saucers Rock and Roll") to the in-the-groove (like future country legend Charlie Rich's aching "Lonely Weekends" and "Who Will the Next Fool Be?"). Sun's big names are all represented here -- Elvis by the seminal "Mystery Train" and "That's Alright Mama"; Carl Perkins, the Killer, and Roy Orbison by a pair of tunes apiece -- but some of the most interesting material comes from the fringes. Bill Justis' appropriately named instrumental "Raunchy" remains a cult favorite, with an instantly recognizable chord progression that has been borrowed by countless rockers in the decades since its release. Likewise, rockabilly ravers such as Gene Simmons (no relation to the long-tongued Kiss dude) and Sonny Burgess (who's still on the road with his high-energy show) spit and snarl with as much venom as any latter-day bunch of attitude-mongers. There's nary a low point on this set, and even if certain tracks don't move your hips, most clock in at around two minutes, making the waiting period for the next shimmy brief enough for even the weakest attention span.
TRACKLIST:CD 1
01. Johnny London - Drivin' Slow
02. Joe Hill Louis - We All Gotta Go Sometime
03. Jimmy & Walter - Easy
04. The Prisonaires - Just Walkin' in the Rain
05. Little Junior's Blue Flame - Feelin' Good
06. Rufus Thomas - Tiger Man
07. Little Junior's Blue Flame - Mystery Train
08. Little Milton - Lookin' for My Baby
09. Doctor Ross - The Boogie Disease
10. James Cotton - Cotton Crop Blues
11. Pat Hare - I'm Gonna Murder My Baby
12. Harmonica Frank - Rockin' Chair Daddy
13. Elvis Presley & Scotty & Bill - That's All Right
14. Sammy Lewis & Willie Johnson - I Feel So Worried
15. Billy "The Kid" Emerson - Red Hot
16. Charlie Feathers - Peepin' Eyes
17. Elvis Presley & Scotty & Bill - Mystery Train
18. Johnny Cash & The Tennessee Two - Folsom Prison Blues
19. Carl Perkins - Blue Suede Shoes
20. Warren Smith - Rock 'n' Roll Ruby
21. Jack Earls - Slow Down
22. Johnny Cash & The Tennessee Two - I Walk the Line
CD 2
23. The Teen Kings - Ooby Dooby
24. Sonny Burgess - Red Headed Woman
25. Rosco Gordon - Shoobie Oobie
26. Ray Harris - Come on Little Mama
27. Gene Simmons - Drinkin' Wine
28. Ernie Chaffin - Feelin' Low
29. Billy Lee Riley and His Little Green Men - Flying Saucers Rock & Roll
30. Carl Perkins - Matchbox
31. Hayden Thompson - Love My Baby
32. Jerry Lee Lewis - Whole Lotta Shakin' Going On
33. Ed Bruce - Rock Boppin' Baby
34. Bill Justis & His Orchestra - Raunchy
35. Roy Orbison - Cat Called Domino
36. Warren Smith - Red Cadillac and a Black Moustache
37. Jerry Lee Lewis - High School Confidential
38. Tommy Blake - Shake Around
39. Billy Lee Riley - One More Time
40. Carl Mann - Mona Lisa
41. Charlie Rich - Lonely Weekends
42. Rayburn Anthony - Big Dream
43. Charlie Rich - Who Will the Next Fool Be
44. The Jesters - Cadillac Man
Скачать mp3 этого исполнителя. ВСЕ полные альбомы + хиты 2019 Совершенно бесплатно!
Скачать VA - Sun Records: The 50th Anniversary Collection [2CD Box Set] (2002) mp3 бесплатно:
Mp3passion.net Facebook.com Vkontakte.ru
Информация
Посетители, находящиеся в группе Guest, не могут оставлять комментарии к данной публикации.
Уважаемый посетитель, Вы зашли на сайт как незарегистрированный пользователь.
Мы рекомендуем Вам зарегистрироваться либо войти на сайт под своим именем.