Fela Kuti & The Africa '70 - Expensive Shit (1975) [Reissue 2014]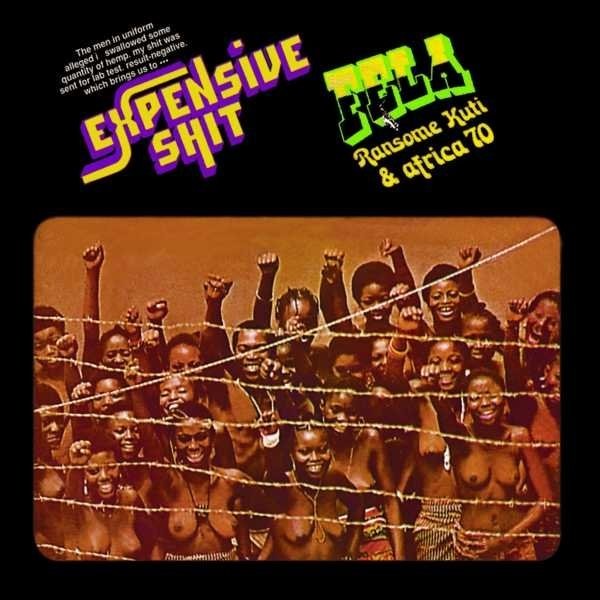 Artist
: Fela Kuti & The Africa '70
Title Of Album
: Expensive Shit
Year Of Release
: 2014 [1975]
Label (Catalog#)
: Knitting Factory Records [KFR 20151]
Genre
: Afrobeat, Funk, Jazz
Quality
: FLAC (tracks)
Bitrate
: Lossless
Time
: 24:14 min
Full Size
: 155 mb
This disc is an overt response to the consistent harassment afflicting Fela Kuti's Kalakuta Republic in the early '70s under the oppressive Lagos authorities. The title track is a direct reference to an actual incident that occurred in which the cops planted a marijuana cigarette on Kuti -- who promptly swallowed it and therefore destroyed any evidence. He was then held until he could pass the drugs from his system -- which miraculously did not occur when his fecal sample was then sent for analysis, thanks to some help from his fellow inmates. Because of the costs incurred during this debacle, Kuti proclaimed his excrement as Expensive Shit. Musically, the Afro-funk and tribal rhythms that Kuti and his Africa '70 put down can rightfully be compared to that of James Brown or even a George Clinton-esque vibe. The beats are infectious with a hint of Latin influence, making the music nearly impossible to keep from moving to. Although the band is large, it is also remarkably tight and malleable enough to accompany and punctuate Kuti's vehement and indicting lyrics. The nature of what Kuti says, as well as infers, amounts to much more than simply whining or bad-rapping the law. His witty and thoughtful raps not only relate his side of the incident, but do so with tongue-in-cheek humor -- such as the statement that his oppressors must really enjoy his feces because they want to examine it so urgently. Yet, he tries to stay away from it, for somewhat obvious reasons. The album's B-side contains the metaphysical "Water No Get Enemy." This is a comparatively jazzy piece, with Africa '70 again exploring and stretching out its impulsive beats behind Kuti's singing. The track features some of his finest and most inspired keyboard work as well. He weaves hypnotic and ethereal electric piano lines over the earthy-sounding brass section. The laid-back groove works well in contrast to the manic tempo of "Expensive Shit."
TRACKLIST:
1. Expensive Shit 13:14
2. Water No Get Enemy 11:00
Congas – Henry Koffi
Congas [3rd] – Nicholas Addo
Drums [Lead] – Tony Alen
Executive-Producer – R. Francis
Guitar [Bass] – Franco Aboddy
Guitar [Rythm] – Leke Benson
Guitar [Tenor] – Ogene Kologbo
Maracas – Issac Olaleye
Percussion [Sticks] – James Abayomi
Tenor Saxophone – Christopher Uwaifor
Tenor Saxophone, Alto Saxophone, Piano, Vocals, Arranged By, Composed By, Producer – Fela Ransome Kuti
Trumpet – Tunde Williams
Trumpet [2nd] – Ukem Stephen
Скачать mp3 этого исполнителя. ВСЕ полные альбомы + хиты 2019 Совершенно бесплатно!
Скачать Fela Kuti & The Africa '70 - Expensive Shit (1975) [Reissue 2014] mp3 бесплатно:
Новость отредактировал artmuss - 4 марта 2016
Причина: Re-Up
Mp3passion.net Facebook.com Vkontakte.ru
Информация
Посетители, находящиеся в группе Guest, не могут оставлять комментарии к данной публикации.
Уважаемый посетитель, Вы зашли на сайт как незарегистрированный пользователь.
Мы рекомендуем Вам зарегистрироваться либо войти на сайт под своим именем.