Bob Dylan - The Childrens Crusade (1966)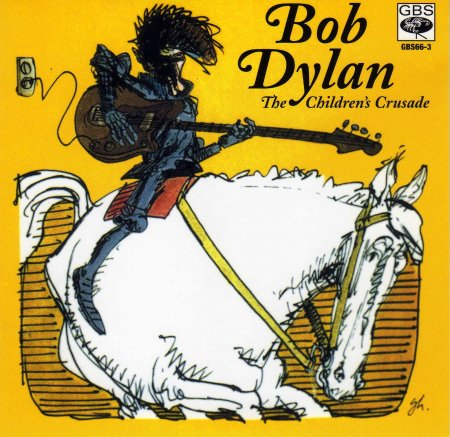 Artist
: Bob Dylan
Title
: The Childrens Crusade
Year Of Release
: 1966 (2000)
Label
: GBS
Genre
: Folk-Rock
Quality
: FLAC / MP3-320
Total Time
: 1:09:19
Total Size
: 410 / 158 MB
WebSite
:
Album Preview
Tracklist
:
01. She Belongs To Me (3:04)
02. Fourth Time Around (6:03)
03. Visions of Johanna (10:11)
04. It's All Over Now, Baby Blue (6:47)
05. Desolation Row (12:27)
06. Just Like A Woman (6:07)
07. Tell Me, Momma (1:39)
08. Baby Let Me Follow (4:17)
09. Interview, Adelaide 4-22-66 (18:44)
Review:
As with most performances of this tour, Dylan sings the first 6 songs solo with the acoustic guitar. For this show he uses a borrowed guitar, as his had been broken. When compared to the Sydney show, this performance is more laid back. This recording has a higher analogue tape white noise floor level, but the windscreen is effective at this show, and there are few mic pops. She Belongs To Me cuts in after the song has begun The band kicks in for electrified versions of the final 3. The overall sound on this recording is quite good. All members of what would be The Band are now in place, except for Levon Helm. On this show, Mickey Jones plays drums. Dylan introduces Just Like Tom Thumb's Blues with a fanciful story about a Mexican Painter, and two girls begin screaming wildly at the prospect of their idol singing their favorite song. Half of the show was broadcast on channel 9 TV South Australia in January 1967, and has been available ever since as a mono recording. The tape here is purported to be a stereo soundboard recording, but it is re-channeled or 'created' stereo. Keep in mind that even the soundboard tapes of the European tour that followed were only 3 tracks. There were two machines in use, but this was not for extra tracks or for a stereo effect. Technology of the day dictated two machines starting a different times to prevent music loss in the event of tape run out. The Aussie shows were mono line feed recorded from the film crew. Mr. Tambourine Man was performed as well, but only a fragment was recorded. Without it, the show clocks in at 57 minutes. Ten minutes of the Adelaide press conference were added to round it out. The original CD release of this show was 1988's 'Bob Dylan's Dream Vol.1'. It was merely recorded from vinyl, however, and the electric portion suffered the fate of being a weak mono TV broadcast tape. The cover illustration is from a 1966 edition of The New
Скачать mp3 этого исполнителя. ВСЕ полные альбомы + хиты 2019 Совершенно бесплатно!
Скачать Bob Dylan - The Childrens Crusade (1966) mp3 бесплатно:
Mp3passion.net Facebook.com Vkontakte.ru
Информация
Посетители, находящиеся в группе Guest, не могут оставлять комментарии к данной публикации.
Уважаемый посетитель, Вы зашли на сайт как незарегистрированный пользователь.
Мы рекомендуем Вам зарегистрироваться либо войти на сайт под своим именем.