Bo Diddley - The Chess Years [12CD Box Set] (1993)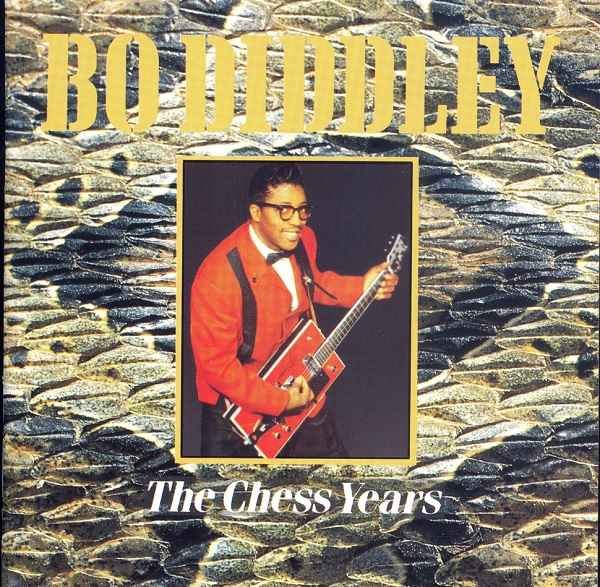 Artist
: Bo Diddley
Title Of Album
: The Chess Years
Year Of Release
: 1993
Label (Catalog#)
: Charly [CD RED BOX 8]
Country
: United States
Genre
: Electric Chicago Blues, Early R&B, Funk / Soul, Rock & Roll
Quality
: Mp3 / FLAC (tracks +.cue,log,scans)
Bitrate
: CBR 320 kbps / Lossless
Time
: 14:43:56
Full Size
: 2.06 gb / 4.65 gb
Charly Records' The Chess Years has assembled most -- though not quite all -- of the music that the Originator recorded for Chess Records, which, unfortunately, means a lot of his lesser work as well -- 282 recordings, made between 1955 and 1974, on 12 CDs; looking at it is like staring across the Grand Canyon, except you want to jump into this if you have any sense. If the collection seems like overkill, that's because it is, and there's some poor material here from the late '60s and early '70s, when Bo was searching for a new commercial sound, although some of the latter isn't really bad -- his covers of Al Kooper's "I Love You More Than You'll Ever Know" or the Band's "The Shape I'm In" from Another Dimension are soulful and moving, but just aren't what one buys a Bo Diddley album to hear (along with the girlie chorus on "Bad Moon Rising"). There are more than enough jewels -- and jewels that are likely never to appear otherwise on compact disc -- to attract serious rock & roll listeners, if you can swing the price, which is around $120. The highlights (which would be far more costly to find on vinyl today) include "Bo Meets the Monster," his catchy (and very funny) answer to "Purple People Eater"; "Here 'Tis," which became famous when covered by the Yardbirds, but only really comes to life in the hands of the originator; the comical "Bucket," "Lazy Woman," and "Run Diddley Daddy"; the rousing, slashing "Puttentang"; the side-splittingly funny biographical song "All Together," a sort of sequel to "The Story of Bo Diddley"; the complete Bo Diddley's Beach Party album, and a handful of demos from the late 1960 sessions that yielded tracks for the Bo Diddley Is a Twister album. Additionally, the collection gives the listener a chance to see how Bo explored different variations on his sound, adapting it to doo wop, folk, and even calypso, all of which worked better than one would have expected, plus soul and funk, which didn't. The sessionography is very detailed and pretty cool, and the notes are among the better biographical accounts of Bo's life and career -- oh, and there are lots of pictures of Bo and the Duchess re-created throughout the set. There are problems with the mastering, however -- momentary gaps exist in one or two songs, and the sound quality in certain places, such as the live Beach Party material, leaves something to be desired. But at its best, and that is often (at least through the mid-'60s), this set presents one of the primal forces in rock & roll.
TRACKLIST:Disc 1 - Hey Bo Diddley
1 I'm A Man
2 Little Girl
3 Bo Diddley
4 You Don't Love Me (You Don't Care)
5 Diddley Daddy
6 She's Fine She's Mine
7 Pretty Thing
8 Heart O-Matic Love
9 Bring It To Jerome
10 Spanish Guitar
11 Dancing Girl
12 Diddy Wah Diddy
13 I'm Looking For A Woman
14 I'm Bad
15 Who Do You Love
16 Cops And Robbers
17 Down Home Special
18 Hey Bo Diddley
19 Mona
20 Say Boss Man
21 Before You Accuse Me
22 Say Man
23 Hush Your Mouth
24 Bo's Guitar
25 The Clock Strikes Twelve
26 Dearest Darling
27 Willie And Lillie
Disc 2 - Story Of Bo Diddley
1 Bo Meet's The Monster
2 Crackin' Up
3 Don't Let It Go (Hold Onto What You Got)
4 I'm Sorry
5 Oh Yea
6 Blues Blues
7 The Great Grandfather
8 Mama Mia
9 Bucket
10 What Do You Know About Love
11 Lazy Woman
12 Come On Baby
13 Nursery Rhyme (Puttentang)
14 Mumblin' Guitar
15 I Love You So
16 Story Of Bo Diddley
17 She's Alright
18 Limber
19 Say Man Back Again
20 Run Diddley Daddy
21 Unknown Title (Issued As 'Diddley Daddy')
22 Road Runner
23 Spend My Life With You
24 Love You Baby
25 Diddling
26 Cadillac
27 Limbo
28 Look At My Baby
29 You Know I Love You
Disc 3 - Bo Diddley Is Loose
1 Let Me In
2 Signifying Blues
3 Live My Life
4 Scuttle Bug
5 Love Me
6 Deed And Deed I Do
7 Walkin' And Talkin'
8 Travelin' West
9 Craw-Dad
10 Ride On Josephine
11 No More Lovin'
12 Do What I Say
13 Doing The Crawdaddy
14 Whoa, Mule (Shine)
15 Cheyenne
16 Sixteen Tons
17 Working Man
18 (Bo Diddley's A) Gunslinger
19 Somewhere
20 Sick And Tired
21 Huckleberry Bush
22 All Together
23 Mess Around
24 Shank
25 The Twister
26 Bo Diddley Is A Lover
27 Love Is A Secret
28 Bo Diddley Is Loose
Disc 4 - Bo's Bounce
1 Congo
2 Aztec
3 Call Me (Bo's Blues)
4 Bo's Vacation
5 Hong Kong, Mississippi
6 Quick Draw
7 You're Looking Good
8 Back Home
9 Not Guilty
10 Moon Baby
11 Untitled Instrumental
12 My Babe
13 Detour
14 Stay Sharp
15 Pills (Love's Labours Lost)
16 Bo's Bounce
17 I Want My Baby
18 Two Flies
19 Background To A Music
20 Please Mr. Engineer
21 Doin' The Jaguar
22 I Know, I'm Alright
23 For The Love Of Mike
24 Mr. Khruschev
25 You All Green
26 Bo's Twist
27 I Can Tell
Disc 5 - The Greatest Lover In The World
1 You Can't Judge A Book By The Cover
2 Sad Sack
3 Rock'n Roll
4 Mama Don't Allow No Twistin'
5 Give Me A Break (Man)
6 Babes In The Woods
7 Who May Your Lover Be
8 Here' Tis
9 Diddling
10 Bo's A Lumberjack
11 (Extra, Read All About) Ben
12 Help Out
13 Little Girl
14 Gimme Gimme
15 Same Old Thing
16 Diana
17 Met You On A Saturday
18 Put The Shoes On Willie
19 Pretty Girl
20 OldMan River
21 Surfer's Love Call
22 Cookie Headed Diddley
23 Greatest Lover In The World
24 Surf, Sink Or Swim
25 Low Tide
26 Africa Speaks
27 Memphis
28 Gunslinger
Disc 6 - Bo Diddley's Hoot' Nanny
1 Hey Bo Diddley
2 Old Smokey
3 Bo Diddley's Dog
4 I'm Alright
5 Mr. Custer
6 Bo's Waltz
7 What's Buggin' You (Crackin' Up)
8 Road Runner
9 Monkey Diddle
10 Hey Good Lookin'
11 Mama, Keep Your Big Mouth Shut
12 Jo-Ann
13 When The Saints Go Marching In
14 Mush Mouth Millie
15 London Stomp
16 Rooster Stew
17 Mummy Walk
18 La, La, La
19 Yeah, Yeah, Yeah
20 Rain Man
21 I Wonder Why (People Don't Like Me)
22 Brother Bear
23 Bo Diddley's Hoot' Nanny
24 Let's Walk A While
25 You Ain'tBad
26 Somebody Beat Me
27 Greasy Spoon
Disc 7 - Soul Food
1 Let Me Pass
2 Tonight Is Ours
3 Soul Food
4 Let The Kid's Dance
5 Hey, Red Riding Hood
6 He's So Mad
7 Stop My Monkey
8 Root Hoot
9 Stinkey
10 Corn Bread
11 Fireball
12 500% More Man
13 We're Gonna Get Married
14 Easy
15 Do The Frog
16 Yakky Doodle
17 Ooh Baby
18 Back To School
19 My Babe
20 I'm A Man
21 Who Do You Love
22 Juke
23 Bo Diddley
Disc 8 - Diddley Daddy
1 Long Distance Call
2 I Just Want To Make Love To You
3 You Don't Love Me (You Don't Care)
4 You Can't Judge A Book By The Cover
5 Sad Hours
6 Wrecking My Love Live
7 Boo-Ga-Loo Before You Go
8 Little Red Rooster
9 Diddley Daddy
10 Ooh Baby/Wrecking My Love Life
11 Spoonful
12 Goin' Down Slow
13 Sweet Little Angel
14 Long Distance Call
Disc 9 - Bo's Beat
1 I'm High Again
2 Another Sugar Daddy
3 Bo Diddley 1969
4 Soul Train
5 Elephant Man
6 I've Got A Feeling
7 If The Bible's Right
8 Power House
9 Funky Fly
10 Shut Up Woman
11 Black Soul
12 You Bo Diddley
13 I Don't Like You
14 Hot Buttered Blues
15 Bo's Beat
16 Chuck's Beat
Disc 10 - Bo Diddley-Itis
1 I Love You More Than You'll Ever Know
2 The Shape I'm In
3 Pollution
4 Bad Moon Rising
5 Down On The Corner
6 I Said Shut Up Woman
7 Bad Side Of The Moon
8 Lodi
9 Go For Broke
10 Look At Grandma
11 Woman
12 Hey, Jerome
13 Take It All Off
14 I've Had It Hard
15 Bad Trip
16 A Good Thing
17 Infatuation
18 Bo Didley-Itis
19 Diddley Daddy
20 I Hear You Knockin'
21 You Can't Jude A Book By The Cover
Disc 11 - Bo-Jam
1 Make A Hit Record
2 Do The Robot
3 Get Out Of My Life
4 Don't Want No Lyin' Woman
5 Bo Diddley
6 Bo-Jam
7 Husband-In-Law
8 Sneakers On A Rooster
9 Going Down
10 I've Been Workin'
11 Hit Or Miss
12 He's Got All The Whiskey
13 Bite You
14 Evelee
15 Stop The Pusher
16 You've Got A Lot Of Nerve
Disc 12 - Bo's Bonus Beat (Rarities & Unissued Takes)
1 I'm A Man
2 Little Girl
3 I'm Sweet On You Baby (Billy Boy Arnold)
4 You Got To Love Me Baby (Billy Boy Arnold)
5 Roller Coaster (Little Walter)
6 I Got To Go (Little Walter)
7 Billy's Blues, Pt.1 (Billy Stewart)
8 Billy's Blues, Pt.2 (Billy Stewart)
9 Bring It To Jerome
10 Hush Your Mouth
11 Dearest Darling
12 Bucket
13 She's Alright (Unedited)
14 She's Alright
15 Say Man Back Again
16 Signifying Blues (Extended Version)
17 Pretty Baby
18 Can You Shimmy?
19 I'm Hungry
20 Oh Yes
21 Watusi Bounce
22 The Soup Maker
23 No More Lovin'
24 Bo's A Lumberjack
25 I'm High Again
26 Hey, Go Go
Скачать mp3 этого исполнителя. ВСЕ полные альбомы + хиты 2019 Совершенно бесплатно!
Скачать Bo Diddley - The Chess Years [12CD Box Set] (1993) mp3 бесплатно:
Mp3passion.net Facebook.com Vkontakte.ru
Информация
Посетители, находящиеся в группе Guest, не могут оставлять комментарии к данной публикации.
Уважаемый посетитель, Вы зашли на сайт как незарегистрированный пользователь.
Мы рекомендуем Вам зарегистрироваться либо войти на сайт под своим именем.