VA - Cooler Shakers! 30 Northern Soul Floorstompers (1997)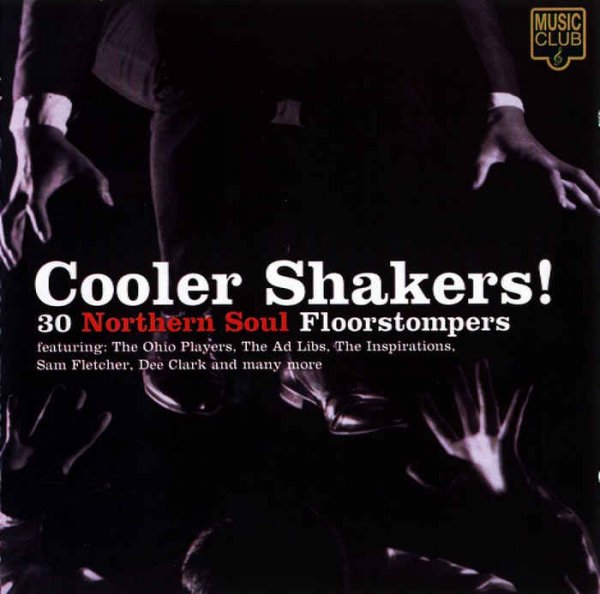 Artist
: Various Artists
Title Of Album
: Cooler Shakers! 30 Northern Soul Floorstompers
Year Of Release
: 1997
Label (Catalog#)
: Music Club [MCCD 319]
Genre
: Northern Soul, Funk, Pop
Quality
: Mp3 / FLAC (tracks +.cue,log,scans)
Bitrate
: CBR 320 kbps / Lossless
Time
: 1:16:31
Full Size
: 185 mb / 350 mb
Northern Soul is that most rarefied of sounds, a primitive dance music scored from the very heart of the black America of the '60s. Today, in the CD age, where labels like Music Club offer a veritable library of archive music, it's difficult to appreciate the sense of adventure which permeated the original Northern Soul scene among DJ's and collectors trying to hunt down records like those on this album. New discoveries were 'covered up' with bogus credits to avoid detection, and dealers made frenzied busmans holiday trips to the U.S. where the Americans must have puzzled over this strange influx of earnest record buyers who'd go potty over what they deemed some crappy Motown spin-off.

Later, of course, this mentality, this thirst to devour new rarities, spread like wildfire through pop music, such that everyone from Madonna and Prince to Oasis have valuables to their name - and the scarcest Northern Soul 45s are now tagged at several thousand pounds apiece. So there's a definite sense of the pioneer about those enterprising characters who dug up the Northern Soul classics heard on "Cooler Shakers" back in the very late '60s and 1970s.
TRACKLIST:
1. Lonely for You Baby - Sam Dees
2. Nothing Can Stop Me Now - Gene Chandler
3. Getting Mighty Crowded - Betty Everett
4. Breakaway - The Valentines
5. Come On Train - Don Thomas
6. Nothing Worse Than Being Alone - The Ad Libs
7. I Hurt On the Other Side - Sid Barnes
8. Just Another Heartache - Shane Richie
9. Don't Let Me Down - Fred Hughes
10. Touch Me, Hold Me, Kiss Me - The Inspirations
11. That's Enough - Roscoe Robinson
12. You've Been Gone Too Long - Anne Sexton
13. Sweet and Easy - Van McCoy
14. I'm a Fool, I Must Love You - The Falcons
15. I'd Think It Over Twice - Sam Fletcher
16. Dearly Beloved - Jack Montgomery
17. That's No Way To Treat A Girl - Marie Knight
18. Please Stay - The Ivories
19. You Hit Me Like TNT - Linda Jones
20. Get It Baby - Stanley Mitchell
21. Love Stripped Through My Fingers - The Ohio Players
22. Stop and Get a Hold - Gladys Knight and The Pips
23. The Wrong Girl - The Showmen
24. One in a Million - Maxime Brown
25. Black Eyed Girl - Billy Thompson
26. That's My Girl - Dee Clark
27. Do You Love Me Baby - The Masqueraders
28. That Girl - Porgy & The Monarchs
29. I'm Stepping Out Of The Picture - Johnny Maestro
30. Long After Tonight Is Over - Jimmy Radcliffe
Compiled By, Liner Notes – John Reed
Скачать mp3 этого исполнителя. ВСЕ полные альбомы + хиты 2019 Совершенно бесплатно!
Скачать VA - Cooler Shakers! 30 Northern Soul Floorstompers (1997) mp3 бесплатно:
Mp3passion.net Facebook.com Vkontakte.ru
Информация
Посетители, находящиеся в группе Guest, не могут оставлять комментарии к данной публикации.
Уважаемый посетитель, Вы зашли на сайт как незарегистрированный пользователь.
Мы рекомендуем Вам зарегистрироваться либо войти на сайт под своим именем.