VA - Stop And Listen 5 [Compiled by Masters at Work] (2000)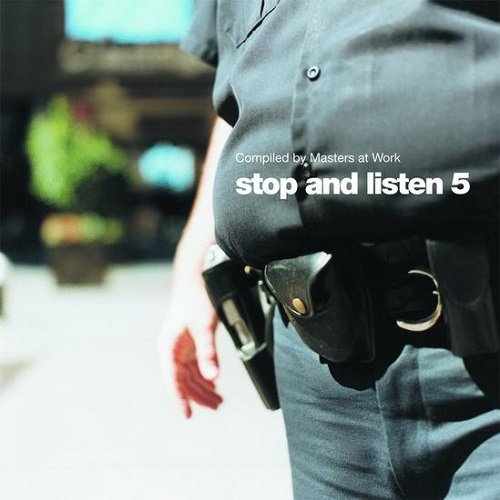 Artist
: Various Artists
Title Of Album
: Stop And Listen 5 [Compiled by Masters at Work]
Year Of Release
: 2000
Label (Catalog#)
: BBE [BBECD-029]
Genre
: Disco, Soul, Funk, House, Latin
Quality
: Mp3 / FLAC (tracks +.cue,log-file)
Bitrate
: CBR 320 kbps / Lossless
Time
: 2:05:32
Full Size
: 301 mb / 835 mb
Masters at Work -- Kenny "Dope" Gonzales and Little Louie Vega -- put together the BBE label's fifth volume of Stop & Listen. An unmixed, two-disc set, Gonzalez and Vega split the time playing selector; the men are given separate discs to pay tribute to roots and current inspirations. As one can imagine, the results are diverse and colorful, spanning generations of dance music with little, if any, attention paid to boundaries. Vega's disc has plenty of delights, including Pepe Bradock's "Deep Burnt" (a heavenly deep house epic in a very rare CD appearance), Anu Pillai's remix of Isolee's "Beau Mot Plage" (which adds an assortment of flutes, guitars, female vocals, stomps, and Latin percussion to an already stunning house production), and Joey Negro's dub of Blaze's "Wishing You Were Here" (another uplifting track from those legends-to-too-few). Vega looks to the past just as often as the present, including two Loft/Paradise Garage classics with Candido's "Thousand Finger Man" and Taana Gardner's "When You Touch Me." Gonzalez takes over for the second disc and goes even further back, to Nina Simone's timeless "See Line Woman" and Stan Getz and Luiz Bonfa's 1963 bossa nova cut "Saudade Vem Correndo" (featuring Maria Toledo on vocals). The dizzy breeze of Slum Village's "2U 4U" is perfectly complemented by the following Jill Scott song, "Slowly Surely"; those are two of the later tracks selected by Gonzalez, who also tips his hat to the late-'70s/early-'80s heyday of New York's dance scene with Gwen Guthrie's "Seventh Heaven" and Sun Palace's "Rude Movements." The entire thing is packed with outstanding songs and is highly conducive to front-to-back spins.
TRACKLIST:Compiled by Masters At Work: Louie's CD One
01. Karen Ramirez - Troubled Girl (Masters At Work Remix) (7:32)
02. Boris Gardiner - Melting Pot (4:26)
03. Candido - Thousand Fingered Man (7:42)
04. Pépé Bradock - Deep Burnt (11:09)
05. Blaze - Wishing You Were Here (Joey Negro Dub) (5:23)
06. Isolée - Beau Mot Plage (Freeform Reform Parts 1 & 2) (10:34)
07. Taana Gardner - When You Touch Me (10:40)
08. Joe Claussell - Je Ka Jo (7:31)
09. Eddie Palmieri - Puerto Rico (6:57)
Compiled by Masters At Work: Kenny's CD Two
01. Sun Palace - Rude Movements (7:48)
02. Gwen Guthrie - Seventh Heaven (Larry Levan Remix) (7:24)
03. Cleptomaniacs - Numero Uno (6:30)
04. Fania All Stars - Coro Miyare (6:08)
05. Jazz Samba Encore feat. Stan Getz, Luiz Bonfa, Maria Toledo - Saudabe Vern Correndo (3:41)
06. Nina Simone - See Line Woman (2:37)
07. Breakestra - Getcho Soul Togetha (Part 1) (4:07)
08. Breakestra - Getcho Soul Togetha (Part 2) (4:16)
09. Slum Village - 2U 4U (2:31)
10. Jill Scott - Slowly Surely (4:33)
11. Doug Carn - Time Is Running Out (3:53)
Скачать mp3 этого исполнителя. ВСЕ полные альбомы + хиты 2019 Совершенно бесплатно!
Скачать VA - Stop And Listen 5 [Compiled by Masters at Work] (2000) mp3 бесплатно:
Mp3passion.net Facebook.com Vkontakte.ru
Информация
Посетители, находящиеся в группе Guest, не могут оставлять комментарии к данной публикации.
Уважаемый посетитель, Вы зашли на сайт как незарегистрированный пользователь.
Мы рекомендуем Вам зарегистрироваться либо войти на сайт под своим именем.