Black Roots - All Day All Night [Deluxe Edition] (2012)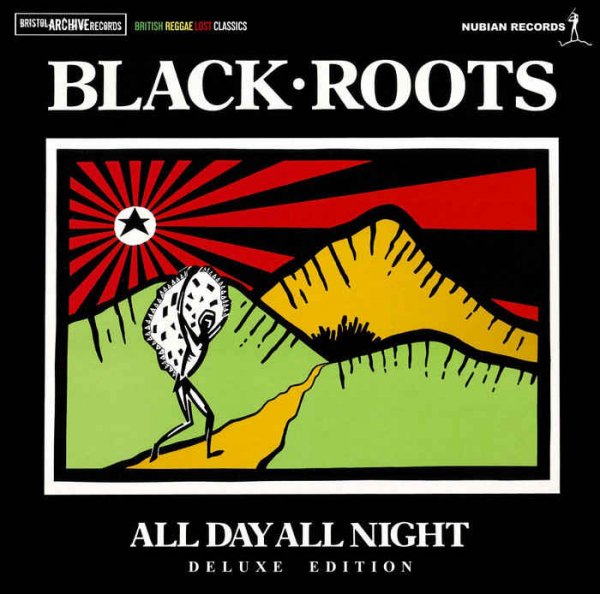 Artist
: Black Roots
Title Of Album
: All Day All Night
Year Of Release
: 2012
Label
: Bristol Archive Records / ARCCD-252
Genre
: Roots Reggae, Lovers Rock
Total Time
: 63:54 min
Format
: Mp3 / FLAC (tracks +.cue, log-file)
Quality
: CBR 320 kbps / Lossless
Total Size
: 154 mb / 426 mb
Having previously teamed up with Nubian Records to release the critically acclaimed "Black Roots - The Reggae Singles Anthology", Bristol Archive Records have once more been allowed into the Black Roots/Nubian tape vaults. This time we bring out a 25th anniversary deluxe CD edition of "All Day All Night", the album that saw them teaming up with the Mad Professor and moving away from their original sound for a more polished version. Whilst the music may have been brought up to date, the band's lyrics rarely strayed away from the same themes of social and historical justice that define the roots genre.

As well the original dozen vocal tracks, we've added several dub versions and the extended 12" mix of "Pin in the Ocean". The music itself saw the band embracing new technology and production techniques to give themselves a more contemporary UK sound, expertly helmed by the UK's leading reggae producer Neil Fraser. The dub mixes give another dimension to the music, the Mad Professor's signature mixing style meaning these mixes wouldn't seem out of place in his own "Dub Me Crazy" series.

A quarter of a century after its first release, "All Day All Night" is worthy of reissue and hopefully will find a new audience amongst fans who were too young for its original release as well as appealing to those who want to supplement their vinyl issues and enjoy the many extra tracks included on this CD. Bristol Archive Records have paid their usual attention to detail and to complement the newly re mastered music, the booklet will include many previously unpublished photos of the band.

Back together after many years, Black Roots are working on a new album to be released in late 2012 as well as performing around the UK. The fact that several of these songs have found a firm place in their live set, emphasises the quality of the writing and the need for this long overdue reappraisal. Bristol Archive Records have once again fulfilled their mission and rescued another deserving and high quality album from obscurity for a new generation of fans.
TRACKLIST:
01. Realize [0:03:19.94]
02. Pin In The Ocean [0:02:58.49]
03. Release The Food [0:03:13.74]
04. Freedom [0:02:55.72]
05. Poor Children [0:03:48.36]
06. Spare The Rod [0:03:57.04]
07. Conman [0:03:24.74]
08. Seeing Your Face [0:04:19.22]
09. All Day All Night [0:03:12.53]
10. Mighty Lion [0:02:45.48]
11. Suffer Me Not [0:03:40.48]
12. Childless Mother [0:02:58.26]
Bonus Tracks:
13. Pin In The Ocean (Extended Mix) [0:06:44.52]
14. Reality Dub [0:03:23.70]
15. Folitrickshun Dub [0:03:16.06]
16. Dub Free [0:02:58.21]
17. Face Dub [0:04:00.56]
18. Fertility Dub [0:02:56.76]
Скачать mp3 этого исполнителя. ВСЕ полные альбомы + хиты 2019 Совершенно бесплатно!
Скачать Black Roots - All Day All Night [Deluxe Edition] (2012) mp3 бесплатно:
Mp3passion.net Facebook.com Vkontakte.ru
Информация
Посетители, находящиеся в группе Guest, не могут оставлять комментарии к данной публикации.
Уважаемый посетитель, Вы зашли на сайт как незарегистрированный пользователь.
Мы рекомендуем Вам зарегистрироваться либо войти на сайт под своим именем.