Esbee Family - Peace of Mind (1982)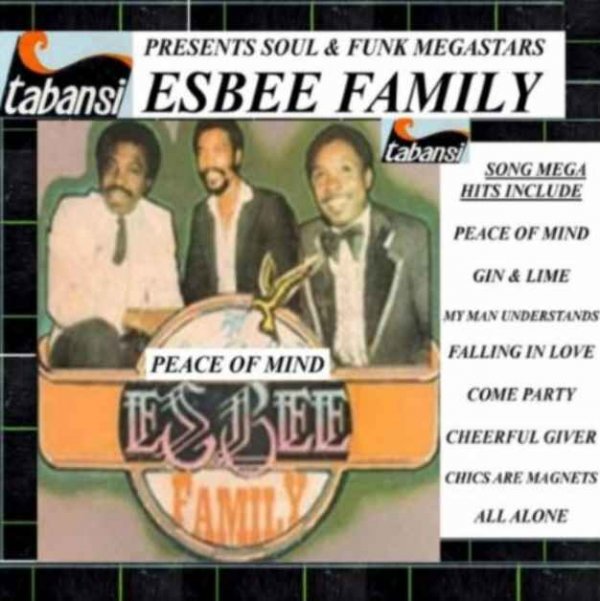 Artist
: Esbee Family
Title Of Album
: Peace of Mind
Year Of Release
: 1982
Label
: Tabansi/Taretone / TTL 256
Genre
: Soul, Funk, Disco, R&B, Pop
Total Time
: 42:04 min
Format
: Mp3 / FLAC (tracks, vinyl)
Quality
: 320kbps / Lossless 44.1kHz/16bit / 96kHz/24bit
Total Size
: 101 mb / 256 mb / 958 mb
WebSite
:
cdbaby
This is the 2nd Album from the International Soul Singing Group - Esbee Family. This Album has all it takes to get you on the dance floor grooving to the soulful beat or uncomparable funk beats - Buy it and you'll forever appreciate you did.

When the party is organised and you need music to complete the scene, reach for none other that "Come Party" - this 2nd Album from the International Soul & Funk Singing group generally Known as Esbee Family. Every Song on this 8 track Album is super magnificient - the melody is very danceable and the lyrics appropriately relates well to the common experiences of the listener - talking about relationships and fallouts of lovers all over. The Song with same title as the Album simply invites the listener to come with his or her friends to the party where literarilly you will meet all the girls in town. The Refrain in diverse tongues encourages those who are not in the dance mood to give way and not stand in the way of others dancing.
I have listened to many Soul Groups but must honestly say - none is as sweet and soul satisfying as this - Take it home, you will be more than pleased you did.
TRACKLIST:
A1 Peace Of Mind
A2 Gin And Lime
A3 My Man Understands
A4 Falling In Love
B1 Come Party
B2 Cheerful Giver
B3 Chics Are Magnets
B4 All Alone (I Dont Know What To Do)
Alto Saxophone – Steven Israel
Arranged By – Esbee Family
Backing Vocals – Galaxy, Pat Henry, Tracey King, Wendy Harris
Bass – Jake Sollo (tracks: A1, B4), Randy Taylor (tracks: A2, B2, B3), Roy Ndy Obika (tracks: A3, A4, B1)
Co-producer, Percussion – Roy Ndy Obika
Congas, Percussion – Mamadi Kamara
Drums – Trevor Murrell
Electric Piano [Fender Rhodes], Grand Piano – Adrian Reed
Guitar – Jackie Anyaorah
Lead Vocals – Kingsley Dallas Anyanwu
Producer, Guitar, Percussion, Synthesizer [Prophet V, Strings] – Jake Sollo
Tenor Saxophone – Geoff Driscoll
Trumpet – Jeff Innes
Скачать mp3 этого исполнителя. ВСЕ полные альбомы + хиты 2019 Совершенно бесплатно!
Скачать Esbee Family - Peace of Mind (1982) mp3 бесплатно:
Mp3passion.net Facebook.com Vkontakte.ru
Информация
Посетители, находящиеся в группе Guest, не могут оставлять комментарии к данной публикации.
Уважаемый посетитель, Вы зашли на сайт как незарегистрированный пользователь.
Мы рекомендуем Вам зарегистрироваться либо войти на сайт под своим именем.