The Mankeys - Record Megamix #012 (2015)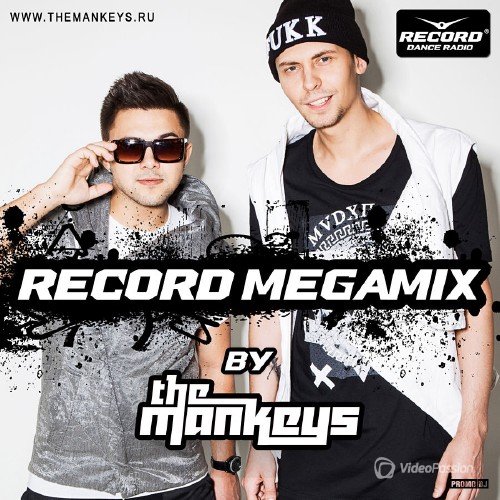 Исполнитель:
The Mankeys
Альбом:
Record Megamix #012
Жанр,стиль:
House, Electro House
Дата релиза:
18/01/2015
Битрейт аудио:
320 kbps / 44100Hz / Joint Stereo
Продолжительность:
53:06 min
Тип рипа:
mixed, no
*cueАудио кодек:
MP3
Размер:
~124 Mb
Трэклист
01
PITBULL, JOHN RYAN, MICKEY MARTINI - Fireball
DJ DIMIXER - Lamantine
ANISE K, BELLA BLUE, SUPASOUND - Walking On Air
R3hab, KSHMR - Karate
MARLON ROUDETTE - When The Beat Drops Out (DJ Amira Remix)
UMMET OZCAN - SuperWave
DJ KUBA, NE!TAN, FLIP DA SCRIP, FUNKWELL - Party Hard
AFROJACK, MARTIN GARRIX - Turn Up The Speakers
CHAINSMOKERS, SIRENXX, REECE LOW - Kanye
STEFAN RIO - Can't Let Go
DJANE HOUSEKAT, RAVEEZ - Girls In Luv (Bodybangers Remix)
Hardwell, Joey Dale, Lucia - Arcadia
FEDDE LE GRAND, MR V - Back & Forth
MeM, Ummet Ozcan - Ecco
Jack U, Kiesza, Hunter Siegel - Take U There
BEATFREAKZ, HI TACK - Somebody's Watching Me
IOWA, Ivan Spell - Marshrutka
Stromae - Alors On Danse Acapella
Qulinez - Let's Rock
NICKY ROMERO, VICETONE, WHEN WE ARE WILD - Let Me Feel
PITBULL, TJR, ELECTRO ELEPHANTS - Don't Stop The Party
DIMITRI VEGAS, LIKE MIKE, MARTIN GARRIX - Tremor
GORDON, DOYLE, SCOOTER, TR-MEET, YULIANA - Let's Go Crazy
AVICII - Nights
02
DVBBS, JOEY DALE, DELORA - Deja Vu
DAVID GUETTA, SHOWTEK, VASSY - Bad
SHOWTEK, WE ARE LOUD!, SONNY WILSON - Booyah
OLIVER HELDENS - Koala
FEDER, LYSE, DJ ANTONIO - Goodbye
Kiesza - No Enemiesz
CALVIN HARRIS - CUBA
ALESSO, TOVE LO - Heroes (We Could Be)
MARTIN GARRIX, MOTI - Virus (How About Now)
EMPIRE OF THE SUN - Walking On A Dream
Quest Pistols, Slider, Magnit - Santa Luchiya
Deorro - Stopping Us
PITBULL, NE-YO, AFROJACK, NAYER - Give Me Everything
Charli XCX, DJ Kolya Dark - Break The Rules
VICETONE - United We Dance
CALVIN HARRIS, JOHN NEWMAN - Blame
CHEMICAL BROTHERS - Hey Boy, Hey Girl Acapella
SLIDER, MAGNIT, RADIO KILLER - Sunwaves
AVICII, WYCLEF JEAN - Divine Sorrow
03
One Direction - Steal My Girl (DaLoops Remix)
KIESZA - Hideaway
MATTARA, MENDOZA - Send The Message
JESSIE J, ARIANA GRANDE, NICKI MINAJ, 3LAU - Bang Bang
CHOCOLATE PUMA, FIREBEATZ - I Can't Understand
MARTIN GARRIX, JAY HARDWAY - Wizard
HARDWELL, W&W, FATMAN SCOOP - Don't Stop The Madness
LMFAO, GIGI BAROCCO - Sorry For Party Rocking
SCOOTER, VASSY - Today
IMANY, IVAN SPELL, DANIEL MAGRE - You Will Never Know
HADDAWAY, KLAAS - What Is Love
CALVIN HARRIS, ELLIE GOULDING - Outside
OLIVER HELDENS, BECKY HILL - Gecko (Overdrive)
KASKADE, HALEY, DADA LIFE - Dynasty
ZHU - Faded
LAIDBACK LUKE, GINA TURNER - Bae
DJ Felli Fel, Pitbull, Juicy J, DJ Kirillich - Have Some Fun
DJ ANTONIO, MC VAN4O, TIANA - Fire
David Guetta, Sam Martin, Anton Liss - Dangerous
04
SANDER VAN DOORN, MARTIN GARRIX, DVBBS, ALEESIA - Gold Skies
Sebastian Ingrosso - Reload (Acapella)
Lush & Simon - Stellar
TWOLOUD, WILL BRENNAN - Get Down
Bodybangers - Raise
The Underdog Project feat. Craig David - Summer Jam Acapella
SHOWTEK - We Like To Party
EXAMPLE, MIKE CANDYS - Changed The Way You Kiss Me
Slider, Magnit, Leningrad - Like
CHARLI XCX, CAHILL - Boom Clap
AVICII, MICHAEL MIND, NEJTRINO BAUR - Blue Levels
DVBBS, BORGEOUS - Tsunami
SMASH, LIVINGSTONE - Edge
DAVID GUETTA, SAM MARTIN - Lovers On The Sun
VOYAGERS, HARIS, OLIVER HELDENS - A Lot Like Love
BLACK EYED PEAS, DANNY RUSH - Let's Get It Started
Armin Van Buuren, Hardwell - Ping Pong
JASON DERULO, TJR - Talk Dirty
COLDPLAY, AVICII, HARDWELL - A Sky Full Of Stars
HARDWELL, MAKJ - Countdown
Скачать mp3 этого исполнителя. ВСЕ полные альбомы + хиты 2019 Совершенно бесплатно!
Скачать The Mankeys - Record Megamix #012 (2015) mp3 бесплатно:
1.
Скачать/Download The Mankeys - Record Megamix #012 (2015)
2.
Скачать/Download The Mankeys - Record Megamix #012 (2015)
3.
Скачать/Download The Mankeys - Record Megamix #012 (2015)
Mp3passion.net Facebook.com Vkontakte.ru
Информация
Посетители, находящиеся в группе Guest, не могут оставлять комментарии к данной публикации.
Уважаемый посетитель, Вы зашли на сайт как незарегистрированный пользователь.
Мы рекомендуем Вам зарегистрироваться либо войти на сайт под своим именем.