VA - Bebop Highlights (2014)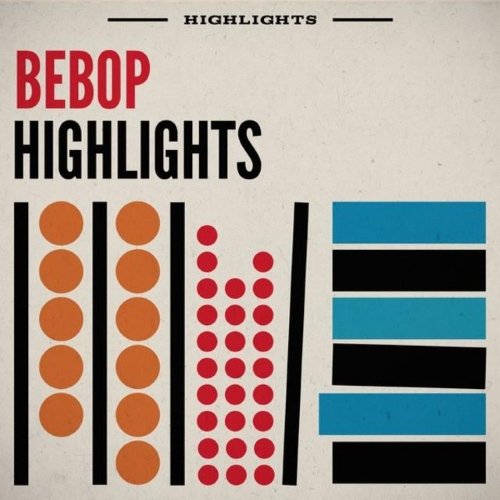 Artist
: Various Artists
Title Of Album
: Bebop Highlights
Year Of Release
: 2014
Label
: U-5
Genre
: Jazz,Jazz Fusion,Smooth Jazz
Quality
: MP3 CBR 320 kbps
Tracks:
20
Total Time
: 01:55:20
Total Size
: 292 MB
Tracklist:
01. Charlie Parker - Ornithology (Version 2) (Live-Hi-Hat) (07:43)
02. Horace Silver Quintet - Cookin' at the Continental (Remastered) (04:54)
03. Dizzy Gillespie Quintet - Salt Peanuts (07:09)
04. J.J. Johnson - Old Devil Moon (Remastered) (03:55)
05. George Benson - Billie's Bounce (06:12)
06. Johnny Griffin - Mil Dew (Remastered) (03:54)
07. Freddie Hubbard - Hub Cap (Remastered) (05:16)
08. The Max Roach 4 - Yardbird Suite (03:57)
09. Joe Henderson - Our Thing (Remastered) (05:36)
10. Milt Jackson. Ray Brown - Wheelin' and Dealin' (feat. Ray Brown) (04:33)
11. Elvin Jones - Anthropology (04:10)
12. Bobby Hutcherson - Jasper (Remastered) (08:29)
13. Roy Ayers - Donna Lee (03:13)
14. Buddy Rich. Harry "Sweets" Edison - Now's the Time (04:41)
15. Jimmy Smith. Wes Montgomery - Round Midnight (07:22)
16. Horace Silver Quintet - Tippin' (Remastered) (06:12)
17. Stan Getz. Sonny Stitt - Be-Bop (12:51)
18. Lou Donaldson - Groovin' High (Remastered) (06:23)
19. Lee Morgan - Extemporaneous (Remastered) (05:09)
20. Bud Powell - Crossin' the Channel (Remastered) (03:35)
Bebop or bop is a form of jazz characterized by fast tempos and improvisation based on harmonic structure rather than melody. It was developed in the early and mid-1940s. It first surfaced in musicians' argot some time during the first two years of the Second World War.
By the mid-1950s musicians (Miles Davis and John Coltrane among others) began to explore directions beyond the standard bebop vocabulary. Simultaneously, other players expanded on the bold steps of bebop: "cool jazz" or "West Coast jazz", modal jazz, as well as free jazz and avant-garde forms of development from the likes of George Russell.
Bebop style also influenced the Beat Generation whose spoken-word style drew on jazz rhythms, and whose poets often employed jazz musicians to accompany them. The bebop influence also shows in rock and roll, which contains solos employing a form similar to bop solos, and "hippies" of the 60s and 70s, who, like the boppers had a unique, non-conformist style of dress, a vocabulary incoherent to outsiders, and a communion through music. Fans of bebop were not restricted to the USA; the music gained cult status in France and Japan.
More recently, hip-hop artists (A Tribe Called Quest, Guru) have cited bebop as an influence on their rapping and rhythmic style. Bassist Ron Carter even collaborated with A Tribe Called Quest on 1991's The Low End Theory, and vibraphonist Roy Ayers and trumpeter Donald Byrd were featured on Jazzmatazz, by Guru, in the same year. Bebop samples, especially bass lines, ride cymbal swing clips, and horn and piano riffs are found throughout the hip-hop compendium.
It is interesting to note that Bebop has influenced many generations in different and new styles. Bebop is seen as the basic dynamics that influenced popular music throughout generations and still now - and is therefore style-less while giving a great sense of discovery and creation.
Скачать mp3 этого исполнителя. ВСЕ полные альбомы + хиты 2019 Совершенно бесплатно!
Скачать VA - Bebop Highlights (2014) mp3 бесплатно:
Mp3passion.net Facebook.com Vkontakte.ru
Информация
Посетители, находящиеся в группе Guest, не могут оставлять комментарии к данной публикации.
Уважаемый посетитель, Вы зашли на сайт как незарегистрированный пользователь.
Мы рекомендуем Вам зарегистрироваться либо войти на сайт под своим именем.