VA - World Soul Collective Vol.3 (2014)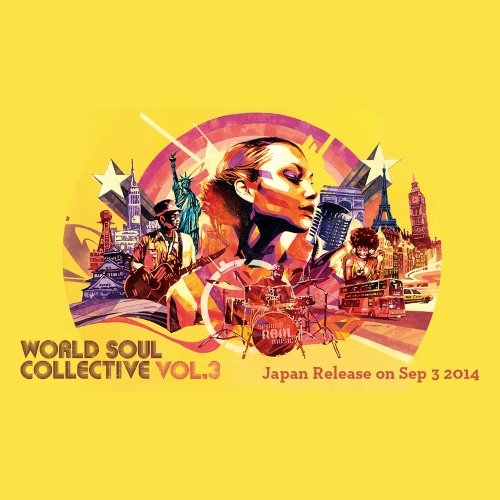 Artist
: Various Artists
Title Of Album
: World Soul Collective Vol.3
Year Of Release
: 2014
Label
: Sweeet Soul Records
Genre
: R&B, Soul
Quality
: MP3 CBR 320 kbps
Tracks:
17
Total Time
: 01:10:23
Total Size
: 179 MB
Tracklist:
01. Gabriel Tajeu - Raindrops (04:16)
02. Mike Hicks - This Is Life (03:52)
03. Jesse Gannon - Livin' It Up (04:47)
04. Catie Waters - Stone Child (03:53)
05. Spend My Life - Nao Yoshioka (01:59)
06. Brian Owens - Open (04:04)
07. iET - Hold On Tight (03:53)
08. Mary Davis Jr. - New Day (04:14)
09. Loretta - The Wonder That You Are (03:49)
10. Raquel Rodriguez - Come Here (03:58)
11. Teisha Marie - Teisha Marie - Acknowledgement (04:20)
12. Debra Debs - Caught Up (04:26)
13. Carolyn Malachi, Chelsey Green, Kevin Powe Jr. - All Right (04:46)
14. Lisa Taylor - Funny Feeling (03:35)
15. Marie Dahlstrom - Opposite Things (03:58)
16. Quentin Moore. Tess Henley - I Could Fall in Love (feat Tess Henley) (05:31)
17. L. Young - Can I Come Home (04:55)
The third installment appeared best compilation series of SWEET SOUL RECORDS in the "WORLD SOUL COLLECTIVE"! Also album structure that conjure the end from the beginning of the 1st first series of music that you listed in the theme of "Cosmopolitan Seoul", comfortably smooth, refined has been recorded, while full of exhilaration by keyword "Utopia" second bullet stuck. Core listener was also a selection of 17 songs full of fulfillment deep conviction and easy exhilaration catchy to hear even beginners latest installment of this popular series was recorded sales of 7000 or more cards total in this past two titles. Led is single cut of Nao Yoshioka was released in November 2013 from "The Light", has been tie-up also to the CM of Peach John the "Spend My Life", recorded music in BLUE NOTE TOKYO in May this year only good song of prohibited missed from the beginning to the end, such as "I Could Fall In Love" of Quentin Moore featuring number "Open" classical Brian Owens was a successful concert in Japan, the Tess Henley. It is finished in one piece jammed is also the theme was part in this series, is quality music nod involuntarily also core listeners easier to hear for beginners. To Chirutaimu, it's worth checking the appearance of board that makes you notch quality any moment on a date to the party drive!
Скачать mp3 этого исполнителя. ВСЕ полные альбомы + хиты 2019 Совершенно бесплатно!
Скачать VA - World Soul Collective Vol.3 (2014) mp3 бесплатно:
Mp3passion.net Facebook.com Vkontakte.ru
Информация
Посетители, находящиеся в группе Guest, не могут оставлять комментарии к данной публикации.
Уважаемый посетитель, Вы зашли на сайт как незарегистрированный пользователь.
Мы рекомендуем Вам зарегистрироваться либо войти на сайт под своим именем.