Bill Frisell - The Disfarmer Project (2011) HDTV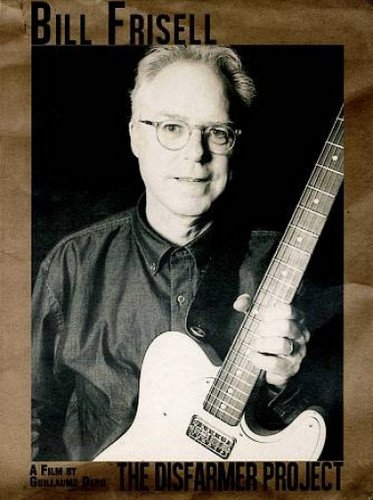 Artist
: Bill Frisell
Title Of Album
: The Disfarmer Project
Year Of Release
: 2011
Label
: La Huit
Genre
: Jazz, Fusion, Folk Jazz, Modern Creative
Total Time
: 43:49
Video
: MPEG4-TS (H264) 1920x1080 25fps
Audio
: Dolby AC3 48000Hz Stereo 256kbps
Total Size
: 2.88 gb
WebSite
:
billfrisell.com
This Album: In the 1930s, Mike Disfarmer shot a long series of portraits of the townspeople in Heber Springs, Arkansas. This recently excavated gallery of photographs is reminiscent of America's
heartland as well as the indelible times of The Great Depression. Bill Frisell took on this body of work as the main inspiration for what became a musical recording project of his own displaying his gift for revisiting and revitalizing American music.

Disfarmer was originally released as a CD by Bill Frisell on Nonesuch Records in 2009 to critical acclaim. The late Michael Disfarmer was an odd, curmudgeonly character in the rural community of Heber Springs, Arkansas, who, despite his anti-social character, chose to record the stark images of his fellow townspeople, during the 1940's and 50's, in cheap black-and-white photographic portraits. Decades after the photographer's passing, a cache of work made by this solitary and oft-reviled man was rediscovered, and he has come to be regarded as an important outsider artist. Among the many drawn to his plain yet deeply evocative pictures was Chuck Helm, Director of the Performing Arts at the Wexner Center in Columbus, Ohio, who introduced guitarist and composer Bill Frisell to Disfarmer's oeuvre on the hunch that Frisell might be inspired by it.
Says Helm, the catalyst for Disfarmer, 'To me, Bill Frisell is a uniquely American artist with a distinctive and singular musical voice, like that of Thelonious Monk or Aaron Copland. In his probing yet atmospheric evocations of American vistas I could hear parallels to the emotional truths of Disfarmer's compelling photographs.'
As Helm suspected, Disfarmer's work resonated with Frisell and led to the creation of a touring multimedia work, Disfarmer Project - featuring Frisell, lap steel guitar player Greg Leisz and violinist Jenny Scheinman, plus slides of Disfarmer's photos, displayed on screens. The piece premiered on March 3, 2007 at the Wexner Center, on the campus of Ohio State University. The score was subsequently recorded in Seattle and Nashville, produced by Frisell's longtime collaborator Lee Townsend and also featuring Viktor Krauss on bass. Along with the Frisell's original compositions, he interpolates versions of such tunes as Arthur Crudup's 'That's Alright Mama' and Hank Williams Sr.'s 'I Can't Help It (If I'm Still in Love with You)' into this subtly yet stunningly beautiful set.
Bill Frisell - guitar
Greg Leisz - steel guitar, lap steel, guitar
Carrie Rodriguez - violin
Viktor Krauss - bass
All music composed by Bill Frisell except where indicated.
Disfarmer photos used by kind permission of Peter Miller
Direction: Lee Townsend
Lighting and Set Design: Alex Nichols
Live Sound Engineer: Claudia Engelhart
Original recording on CD produced by Lee Townsend and released on Nonesuch Records.
Скачать mp3 этого исполнителя. ВСЕ полные альбомы + хиты 2019 Совершенно бесплатно!
Скачать Bill Frisell - The Disfarmer Project (2011) HDTV mp3 бесплатно:
Mp3passion.net Facebook.com Vkontakte.ru
Информация
Посетители, находящиеся в группе Guest, не могут оставлять комментарии к данной публикации.
Уважаемый посетитель, Вы зашли на сайт как незарегистрированный пользователь.
Мы рекомендуем Вам зарегистрироваться либо войти на сайт под своим именем.