Lila Downs - Shake Away (2008) lossless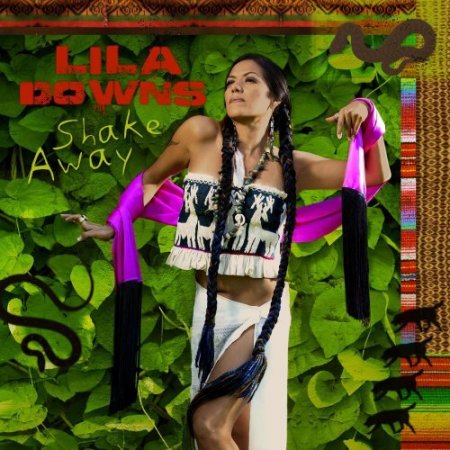 Artist:
Lila Downs
Title Of Album:
Shake Away (Ojo de Culebra)
Release Date:
2008
Location:
Mexico
Label:
Manhattan Records (0946 3 92437 2 3)
Genre:
World, Latin, Folk, Alternative
Quality:
APE (image+.cue+covers)
Length:
60:21 min
Tracks:
16
Total Size:
469 MB (+5%)
Shake Away
(Spanish: Ojo de Culebra) is the sixth studio album by Mexican singer-songwriter Lila Downs. It was released on September 2, 2008 on Manhattan Records. After attaining international success in 2001 with her first English record, Border, Downs wanted to release a fifth Spanish-English language project as its followup. In the vein of her earlier work, the album is heavily influenced by latin pop, world music, flamenco and rock. Downs enlisted Paul Cohen as executive producer, also working with Celso Duarte, Brian Lynch and Aneiro Taño.
Tracklist:
01. Little Man
02. Ojo De Culebra (featuring La Mari)
03. Minimum Wage
04. Perro Negro (featuring Ixaya Mazatzin Tleyotl)
05. Yo Envidio El Viento
06. Skeleton
07. Black Magic Woman (featuring Raul Midon)
08. I Would Never
09. Justicia (featuring Enrique Bunbury)
10. Taco de Palabras
11. Los Pollos (featuring Gilberto Gutierrez)
12. Tierra De Luz (featuring Mercedes Sosa)
13. Silent Thunder
14. Shake Away
15. I Envy The Wind
16. Nothing But The Truth
Password:
morpeh
Скачать mp3 этого исполнителя. ВСЕ полные альбомы + хиты 2019 Совершенно бесплатно!
Скачать Lila Downs - Shake Away (2008) lossless mp3 бесплатно:
1.
Скачать/Download Lila Downs - Shake Away (2008) lossless
Новость отредактировал MuatDip21 - 2 июля 2020
Причина: re-up
Mp3passion.net Facebook.com Vkontakte.ru
Информация
Посетители, находящиеся в группе Guest, не могут оставлять комментарии к данной публикации.
Уважаемый посетитель, Вы зашли на сайт как незарегистрированный пользователь.
Мы рекомендуем Вам зарегистрироваться либо войти на сайт под своим именем.