Fritz Reiner - The Complete RCA Album Collection (63 Cds, 2013) (Lossless)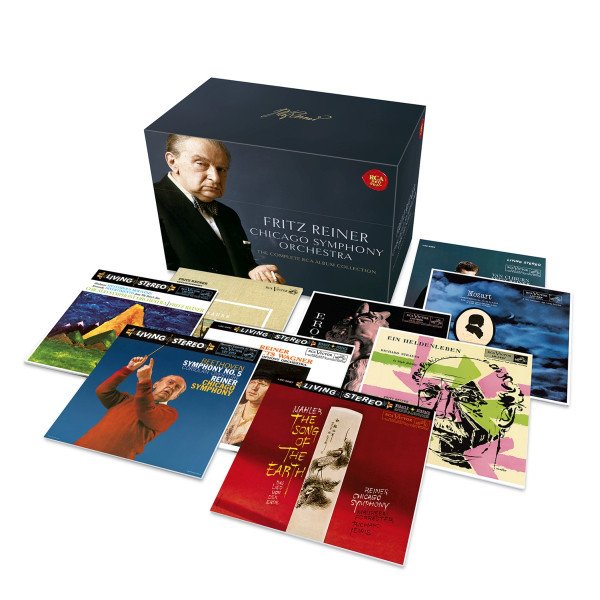 Artist
: Fritz Reiner
Title Of Album
: The Complete RCA Album Collection
Year Of Release
: 2013
Label
: RCA Red Seal
Country
: International
Genre
: Classical
Quality
: FLAC (*tracks + .cue, log, scans)
Time
: 63 CDs, 20:08:27 min
Full Size
: 12,53 Gb
Fritz Reiner was one of the foremost conductors of his time. Crowning his long career in Europe and America was the decade from 1954 to 1963 as music director of the Chicago Symphony Orchestra – an illustrious partnership that ranks along such other historical tenures as Karajan's in Berlin, Szell's in Cleveland and Bernstein's in New York.
Luckily for posterity, Reiner's legendary interpretations at the helm of the Chicago Symphony – which no less than Igor Stravinsky called "the most precise and flexible orchestra in the world" – were captured on record by RCA Victor. Now for the first time ever, they are being issued together in a single Sony Classical box set of 63 re-mastered CDs.
Born in Budapest in 1888, Reiner studied at the city's fabled Academy of Music, where B?la Bart?k was his piano teacher. As principal conductor of the Dresden Royal Opera, he worked with Richard Strauss and in 1919 conducted the German premiere of Die Frau ohne Schatten. In 1922 he became music director of the Cincinnati Symphony Orchestra and in 1938 moved to the Pittsburgh Symphony Orchestra, transforming both into major ensembles. In 1953, after a five-year stint at the Metropolitan Opera, he became music director of the Chicago Symphony Orchestra, which he built into one of the world's most famous and respected musical organizations.
Reiner was extraordinary not only as an orchestra builder but also for his broad range of repertoire. He was equally the master of the delicately balanced sonorities of Mozart and the massive richness of Richard Strauss. A champion of 20th-century music, he could also give incomparably lilting performances of Strauss waltzes. In both Pittsburgh and Chicago, Reiner recorded works by his former teacher Bart?k, and he was instrumental in convincing Serge Koussevitzky to commission Bartok's Concerto for Orchestra in 1943. His classic 1955 Chicago recording of that masterpiece is among the glories of this new set.
Reiner applied even more exacting standards to his recordings – an essential part of RCA's Living Stereo success story – than he set for his concert performances. A consummate collaborator with soloists, he was in demand to record the great concertos by Beethoven, Brahms, Tchaikovsky and Rachmaninoff with such renowned soloists as Jascha Heifetz, Arthur Rubinstein, Emil Gilels and Byron Janis. Equally celebrated is his 1959 Chicago recording of Mahler's Das Lied von der Erde with Maureen Forrester and Richard Lewis.
In ten years, he recorded 122 compositions with the CSO. The first was Richard Strauss's Ein Heldenleben, set down in Chicago's Orchestra Hall on March 6, 1954. One of the earliest RCA stereophonic commercial recordings, it was followed two days later by Strauss's Also sprach Zarathustra. Reiner's last concerts in Chicago took place in the spring of 1963, and on April 22–23 he made his last recording with the orchestra: Beethoven's Fourth Piano Concerto, with Van Cliburn.
Every recording in this new 63-CD set comes from the best re-mastered source. A third have been newly re-mastered from the original tapes. This Reiner/Chicago Symphony edition is destined to become a cornerstone of serious record collections around the world.
TRACKLIST:

Tracklist:
Скачать mp3 этого исполнителя. ВСЕ полные альбомы + хиты 2019 Совершенно бесплатно!
Скачать Fritz Reiner - The Complete RCA Album Collection (63 Cds, 2013) (Lossless) mp3 бесплатно:
Mp3passion.net Facebook.com Vkontakte.ru
Информация
Посетители, находящиеся в группе Guest, не могут оставлять комментарии к данной публикации.
Уважаемый посетитель, Вы зашли на сайт как незарегистрированный пользователь.
Мы рекомендуем Вам зарегистрироваться либо войти на сайт под своим именем.