Carlos Santana & John McLaughlin - Live At Montreux 2011: Invitation To Illumination (2013) [24bit/96kHz]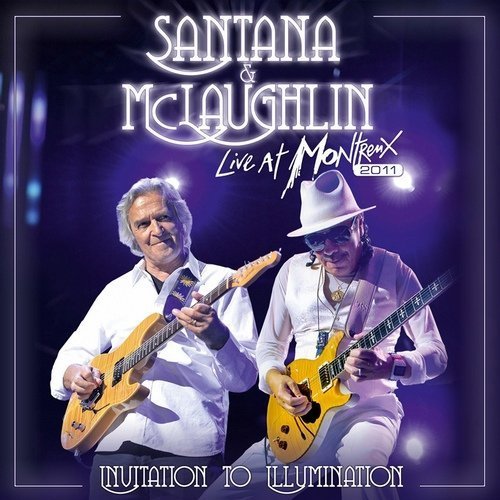 Artist
: Carlos Santana & John McLaughlin
Title Of Album
: Live At Montreux 2011: Invitation To Illumination
Year Of Release
: 2013
Label
: Eagle Rock Entertainment
Genre
: Jazz Rock, Fusion, Blues Rock
Quality
: FLAC (*tracks, booklet, cover)
Bitrate
: Lossless [24bit/96kHz]
Time
: 02:14:46 min
Full Size
: 6,88 Gb
On July 1st, 2011, Montreux hosted the reunion of two master guitarists, Carlos Santana and John McLaughlin, with their Invitation To Illumination concert. Both musicians have been regulars at Montreux across the years but this was the first time they headlined their own concert together. The show features most of the tracks from their classic 1973 album Love Devotion Surrender mixed in with a wealth of other material. The evening was a showcase of supreme musical virtuosity and spirituality and typified the approach of these two great artists. It is certainly a performance not to be missed.
TRACKLIST:
01. Echoes of Angels/Introductions
02. The Life Divine
03. Medley: Peace on Earth/A Hard Rain's A Gonna Fall/Stairway to Heaven/Our Prayer/SOCC
04. Right Off
05. Vuelta Abajo
06. Vashkar
07. The Creator Has a Master Plan
08. Naima
09. Lotus Land Op. 47, No. 1
10. Downstairs
11. Venus/Upper Egypt
12. Let Us Go Into the House of the Lord
13. Black Satin
14. Cindy Blackman Santana Drum Solo
15. A Love Supreme
16. Shake It Up and Go
Personnel:
Carlos Santana - Lead Guitar & Vocals
John McLaughlin - Lead Guitar & Vocals
Cindy Blackman Santana - Drums
Dennis Chambers - Drums
David K. Mathews - Keyboards
Tommy Anthony - Guitar & Vocals
Raul Rekow - Congas, Percussion & Vocals
Etienne M'Bapp? - Bass
Benny Rietveld - Bass
Tony Lindsay - Vocals
Andy Vargas - Vocals
Скачать mp3 этого исполнителя. ВСЕ полные альбомы + хиты 2019 Совершенно бесплатно!
Скачать Carlos Santana & John McLaughlin - Live At Montreux 2011: Invitation To Illumination (2013) [24bit/96kHz] mp3 бесплатно:
Mp3passion.net Facebook.com Vkontakte.ru
Информация
Посетители, находящиеся в группе Guest, не могут оставлять комментарии к данной публикации.
Уважаемый посетитель, Вы зашли на сайт как незарегистрированный пользователь.
Мы рекомендуем Вам зарегистрироваться либо войти на сайт под своим именем.