VA - Australian Pop Of The 60's, 70's, 80's - Collection (2007-2012)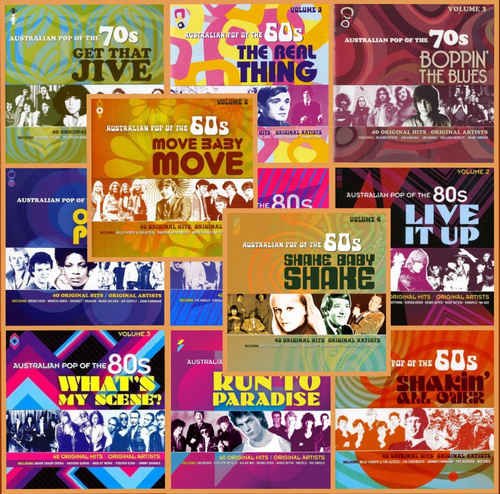 Artist
: Various Artists
Title Of Album
: Australian Pop Of The 60's, 70's, 80's - Collection
Year Of Release
: 2007-2012
Label
: Sony Music
Genre
: Pop, Rock
Quality
: Mp3 / FLAC (tracks +.cue,log)
Bitrate
: CBR 320 kbps / Lossless
Full Size
: 3.44 gb / 9.71 gb
TRACKLIST:

Australian Pop Of The 60's Vol 1: Shakin' All Over [2009]

Disc 1
1. Shakin' All Over - Normie Rowe
2. The Dancer - The Allusions
3. My Aim Is To Please You - Executives
4. Minnie The Moocher - The Cherokees
5. Relax Me - The Groove
6. Fool Fool Fool - Ray Brown & Whispers
7. My Prayer - Digger Revell
8. Ciao Baby - Lynne Randell
9. La La - Flying Circus
10. The Fortune Teller - The Throb
11. No No No No - Marty Rhone
12. Georgy Girl - The Seekers
13. The Girl That I Love - Russell Morris
14. Rockin' Robin - The Henchmen
15. One In A Million - Bev Harrell
16. Sick And Tired - Billy Thorpe & The Aztecs
17. Somebody To Love - Jon Blanchfield
18. Without You - Doug Parkinson
19. The Star - Ross D Wyllie
20. My Old Man's A Groovy Old Man - The Valentines

Disc 2
1. Sorry - THe Easybeats
2. Velvet Waters - Tony Worsley & The Fabulous Blue Jays
3. Western Union Man - Max Merritt & The Meteors
4. Step Back - Johnny Young Kompany
5. Baby It's You - Jeff Phillips
6. I Would If I Could - Marcie & The Cookies
7. Young Girl - The Twilights
8. Woman You're Breaking Me - The Groop
9. Little Boy Sad - MPD LTD
10. Alberta - Bryan Davies
11. Spicks And Specks - Bee Gees
12. Elevator Driver - Masters Apprentices
13. I Don't Want To Love You - Johnny Farnham
14. Hitch Hiker - Bobby & Laurie
15. The Loved One - The Loved Ones
16. 1 X 2 X 3 X 4 - The Zoot
17. Love Me Again - Town Criers
18. Happy Without You - The Strangers
19. Pushing A Good Thing Too Far - Little Pattie
20. Big Time Operator - The ID/Jeff St John

Australian Pop Of The '60s Vol 2: Move Baby Move [2009]

Disc 1:
1. Johnny O'keefe - Move Baby Move
2. The Iguana - California My Way
3. Masters Apprentices - 5.10 Man
4. Ray Columbus & The Invaders - She's A Mod
5. Marty Rhone - Ruby With The Red Hair
6. Lynne Randell - Going Out Of My Head
7. John Farnham - Rose Coloured Glasses
8. Bobbie And Laurie - I Belong With You
9. The Easybeats - Women (Make You Feel Alright)
10. The Five - I'll Be There
11. Doug Parkinson - In Focus Dear Prudence
12. The Seekers - Someday Oneday
13. Jon Blanchfield - Son Of A Simple Man
14. The Twilights - Cathy Come Home
15. Johnny Young And Kompany - Kiss Me Now
16. Billy Thorpe - Over The Rainbow
17. The Groop - Such A Lovely Way
18. Ray Brown & The Whispers - Pride
19. The Flies - Doin' The Mod
20. Heart 'N' Soul - Lazy Life

Disc 2:
1. Normie Rowe - It Ain't Necessarily So
2. Bev Harrell - Come On Over To Our Place
3. Town Criers - Everlasting Love
4. The Cherokees - Oh Monah
5. The Groove - You Are The One I Love
6. The Executives - Sit Down, I Think I Love You
7. Tony Worsley - And The Blue Jays : If I
8. Flying Circus - Hayride
9. Digger Revell - Twilight Time
10. Mike Furber And The Bowery Boys - You Stole My Love
11. Hush - Somebody's Image
12. Ross D Wyllie - Funnyman
13. Zoot - Monty And Me
14. Merv Benton - Cincinnati Fireball
15. Dave Miller Set - Mr Guy Fawkes
16. Jonne Sands - Mothers And Fathers
17. Mpd Ltd - Lonely Boy
18. Ronnie Burns - Exit Stage Right
19. Cicadas - That's What I Want
20. The Cam-Pact - I'm Your Puppet

Australian Pop Of The 60's Vol 3: The Real Thing [2010]

Disc 1:
1. Russell Morris - The Real Thing
2. The Purple Hearts - Of Hopes And Dreams And Tombstones
3. The Delltones - Hangin' Five
4. Lynne Randell - Heart
5. The Twilights - What's Wrong With The Way I Live?
6. The Executives - It's A Happening World
7. Mike Furber & The Bowery Boys - Just A Poor Boy
8. The Love Machine - Get A Little Dirt On Your Hands
9. Dinah Lee - Don't You Know Yokomo
10. Marty Rhone - Village Tapestry
11. Axiom - Arkansas Grass
12. Marty Kristian - I'll Give You Love
13. The Seekers - A World Of Our Own
14. The Easybeats - Wedding Ring
15. Tony Worsley And The Blue Jays - Missing You
16. Johnny Young - Crasie Finton Kirk
17. The Cherokees - A Woman With Soul
18. Ronnie Burns - Coalman
19. Maria Dallas - Ambush
20. The Groop - The Best In Africa

Disc 2:
1. The Groove - Soothe Me
2. Peter Doyle - Stupidity
3. Pastoral Symphony - Love Machine
4. Jon Blanchfield - Baby Get In The Groove
5. Masters Apprentices - Living In A Childs Dream
6. Bobby & Laurie - High Noon
7. Flying Circus - Run, Run, Run
8. Johnny O'Keefe - She Wears My Ring
9. Billy Thorpe & The Aztecs - My Girl Josephine
10. Ray Brown & The Whispers - 20 Miles
11. MPD Ltd - (Remember) Walking In The Sand
12. The Loved Ones - Everlovin' Man
13. John Farnham - Friday Kind Of Monday
14. Python Lee Jackson - Um, Um, Um
15. Steve & The Board - Giggle Eyed Goo
16. Tony Barber - Someday
17. The Valentines - Knick Knack Paddy Whack
18. Normie Rowe - Its Not Easy
19. The Questions - Sally Go Round The Roses
20. Digger Revell & The Denvermen - My Little Rocker's Turned Surfie

Australian Pop Of The 60's Vol 4: Shake Baby Shake [2012]

Disc 1:
1. Johnny O'Keefe - Shake Baby Shake
2. The Twilights - Needle In A Haystack
3. Cam-Pact - Something Easy
4. Masters Apprentices - Undecided
5. Dinah Lee - Do The Blue Beat
6. Jeff Phillips - Everything I Touch Turns To Tears
7. The Atlantics - Bombora
8. Bev Harrell - What Am I Doing Here With You
9. M.P.D. Limited - Absence Makes The Heart Grow Fonder
10. Ray Brown - The Same Old Song
11. Tony Worsley And The Blue Jays - I Sure Know A Lot About Love
12. The Executives - Windy Day
13. The Easybeats - I'll Make You Happy
14. The In-Sect - I Can See My Love
15. The Seekers - On The Other Side
16. Ronnie Burns - When I Was Six Years Old
17. Judy Stone - 4,003,221 Tears From Now
18. Jon Blanchfield - Lavender Girl
20. The Purple Hearts - Long Legged Baby

Disc 2:
1. Johnny Young & Kompany - Caralyn
2. Jimmy Hannan - You Make Me Happy
3. Johnny Farnham - One
4. Grandma's Tonic - Hi Hi Hazel
5. Billy Thorpe & The Aztecs - Hallelujah I Love Her So
6. King Fox - Unforgotten Dreams
7. Marty Rhone - She's Coming Home
8. Merv Benton - I Got Burned
9. The Groop - Sorry
10. Normie Rowe And The Playboys - Que Sera, Sera (Whatever Will Be, Will Be)
11. Jeff St John & The ID - You Got Me Hummin'
12. The Valentines - Getting Better
13. Little Pattie - I'll Eat My Hat
14. Bobby And Laurie - Someone
15. Maria Dallas - Tumblin' Down
16. Russell Morris - Part Three Into Paper Walls
17. Reverend Black & The Rockin' Vicars - Down To The Last 500
18. The Groove - Simon Says
19. Marcie & The Cookies - You On My Mind
20. Marty Kristian - It Comes And Goes

Australian Pop of the 70s: Get That Jive [2009]

Disc 1:
1. Summer Love - Sherbert
2. Will I - Mississippi
3. Computer Games - Mi-sex
4. Marshalls Portable Music Machine - Robin Jolley
5. Don't Fall In Love - Ferrets
6. Think About Tomorrow Today - Masters Apprentices
7. Speak To The Sky - Rick Springfield
8. Captain Captain - Moscos & Stone
9. The Newcastle Song - Bob Hudson
10. I Remember When I Was Young - Matt Taylor
11. Superstar - Colleen Hewett
12. Denim & Lace - Marty Rhone
13. My Baby's Gone - Axiom
14. Happy Days - Silver Studs
15. New York City - Digby Richards
16. Can't Stop Myself From Loving You - William Shakespeare
17. Love & Other Bruises - Air Supply
18. World Of Make Believe - Stylus
19. In The Summertime - The Mixtures
20. Everything Is Out Of Season - John Farnham

Disc 2:
1. Curiosity Killed The Cat - Little River Band
2. Glad All Over (Single Version) - Hush
3. Ginger Man - Brian Cadd
4. Million Dollar Riff - Skyhooks
5. She Taught Me How To Love Again - Bjerre
6. Neither One Of Us (Wants To Be The First To Say Goodbye) - Linda George
7. Where Were You - Finch
8. Darktown Strutters Ball - Ted Mulry Gang
9. Walking In The Rain - Cheetah
10. I Like It Both Ways - Supernaut
11. From The Inside - Marcia Hines
12. Wind & Rain - Bluestone
13. Come Back Again (Original Version) - Daddy Cool
14. Let's Do It - Russell Morris
15. Look After Yourself - Stars
16. Superman - Allison Mccallum
17. Who Listens To The Radio - Sports
18. Reach Out - Gene Pierson
19. Get That Jive - Dragon
20. The Love Game - John Paul Young

Australian Pop of the 70s: On The Prowl: Vol 2 [2009]

Disc 1:
1. Ol'55 - On The Prowl
2. The New Dream - Soft Delights
3. John Farnham - Rock Me Baby
4. Jon English - Hollywood Seven
5. Autumn - Looking Thru The Eyes Of A Beautiful Girl
6. Christie Allen - Goose Bumps
7. Kevin Johnson - Rock And Roll(I Gave You The Best Years Of My Life)
8. Hush - Walking
9. John Paul Young - I Hate The Music
10. Town Criers - Living In A World Of Love
11. Allison Durbin - Amerikan Music
12. Sherbet - Slipstream
13. The Studs - Funky Feet
14. Daddy Cool - Hi Honey Ho
15. TMG - Jamaica Rum
16. G. Wayne Thomas - Everything In You
17. Dragon - This Time
18. Gary Shearston - I Get A Kick Out Of You
19. Marcia Hines - You
20. Johnny Chester And Jigsaw - Shame & Scandal (In The Family)

Disc 2:
1. Grahame Bond And Rory O'donoghue - Farewell Aunty Jack
2. Marty Rhone - A Mean Pair Of Jeans
3. Ross Ryan - Blue Chevrolet Ballerina
4. Russell Morris - Rachel
5. Alison Maccallum With Freshwater - I Ain't Got The Time
6. Ray Burgess - Love Fever
7. Mr George - Lazy Susan
8. Masters Apprentices - Because I Love You
9. Mark Holden - Never Gonna Fall In Love Again
10. Cheek - So Much In Love
11. New World - Tom Tom Turnaround
12. Brian Cadd - Let Go
13. Stevie Wright - Black Eyed Bruiser
14. Skyhooks - Blue Jeans
15. John J. Francis - Play Mumma Play (Sing Me A Song)
16. William Shakespeare - My Little Angel
17. Air Supply - Empty Pages
18. Little River Band - Everyday Of My Life
19. Hans Poulsen - Light Across The Valley
20. Jamie Redfern - Hitch A Ride On A Smile

Australian Pop Of The 70's Vol 3: Boppin' The Blues [2010]

Disc 1:
1. Blackfeather - Boppin' The Blues
2. Marc Hunter - Island Nights
3. Flash & The Pan - Hey St Peter
4. The Mixtures - Captain Zero
5. Sherbet - Cassandra
6. Shirley Stracha - Every Little Bit Hurts
7. Tadpole - Throw A Little Lovin' My Way
8. Ted Mulry Gang - Jump In My Car
9. Marty Rhone - On The Loose
10. John Farnham - Comic Conversation
11. Billy Thorpe & The Aztecs - It's Almost Summer
12. Marcie Jones - Armed And Extremely Dangerous
13. Spectrum - I'll Be Gone
14. John St. Peeters - Deep Inside Of Me
15. Jon English - Turn The Page
16. Jigsaw - Mademoiselle Ninette
17. Jeff St John - A Fool In Love
18. Barry Crocker - Susie Darlin'
19. Stylus - Summer Breeze
20. Kevin Johnson - Bonnie, Please Don't Go

Disc 2:
1. Hush - Bony Moronie
2. Rick Springfield - What Would The Children Think
3. Stars - Quick On The Draw
4. Colleen Hewett - Day By Day
5. Railroad Gin - You Told The World
6. Hans Poulsen - Boom Sha La La Lo
7. John Paul Young - I Wanna Do It With You
8. Country Radio - Gypsy Queen
9. Dragon - Still In Love With You
10. Mr George - So Much Love (In My Heart)
11. Skyhooks - All My Friends Are Getting Married
12. Autumn - Falling
13. Ross Ryan - I Am Pegasus
14. Christie Allen - Falling In Love With You
15. Russell Morris - Mr. America
16. Debbie Byrne - He's A Rebel
17. Marcia Hines - Something's Missing (In My Life)
18. Mark Holden - Last Romance
19. Brian Cadd & Don Mudie - Show Me The Way
20. Alison MacCallum - Excuse Me

Australian Pop of the 80's: Counting The Beat [2007]

Disc 1
1. Counting the Beat - The Swingers
2. True Love - Billy Field
3. As the Days Go By - Daryl Braithwaite
4. In Your Car - Dugites
5. Jessie's Girl - Rick Springfield
6. Wait - Gyan
7. Made My Day - Tim Finn
8. Help - John Farnham
9. Can't Wait To See You - Eurogliders
10. Send Me an Angel - Real Life
11. Hot Town - Jon English
12. Compulsory Hero - 1927
13. No Secrets - The Angels
14. Night Owls, The - Little River Band
15. Miss This Tonight - Matt Moffitt
16. Dreaming My Dreams With You - Colleen Hewett
17. Falling In and Out - Mi-Sex
18. My Baby - Cold Chisel
19. Maxine [Album Version] - Sharon O'Neill
20. Never Gonna Die - Choirboys

Disc 2
1. Singing In the Eighties - Monitors
2. One Perfect Day - The Little Heroes
3. Hold On - The Models
4. Lady What's Your Name - Swanee
5. Same Old Girl - Darryl Cotton
6. Cool World - Mondo Rock
7. Computer One - Dear Enemy
8. House of Cards - GANGgajang
9. Overkill - Men at Work
10. Sweet and Sour - The Takeaways
11. Alone With You - Sunnyboys
12. He's Just No Good For You - Mental as Anything
13. Sooner or Later - The Innocents
14. Rain - Dragon
15. I Am - Uncanny X-Men
16. What About Me - Moving Pictures
17. Strangers On a Train - The Sports
18. Soldier of Fortune - John Paul Young
19. According To My Heart - The Reels
20. I Was Only 19 (a Walk In the Light Green) - Redgum

Australian Pop of the 80's: Live It Up: Vol 2 [2009]

Disc 1:
1. Mental As Anything - Live It Up
2. Jane Clifton - Girl On The Wall
3. The Reels - After The News
4. Jimmy Barnes - I'd Die To Be With You Tonight
5. Billy Field - Bad Habits
6. Dragon - Young Years
7. Mike Mcclellan - The One I Love
8. John Farnham - Two Strong Hearts
9. Sharon O'neill - Words
10. Rick Springfield - I've Done Everything For You
11. Divinyls - Science Fiction
12. Mondo Rock - State Of The Heart
13. The Cockroaches - Some Kind Of Girl
14. Men At Work - Be Good Johnny
15. Dugites - Waiting
16. Monitors - Nobody Told Me
17. Pat Wilson - Bop Girl
18. Uncanny X Men - The Party
19. Ol'55 - Two Face Have I
20. Big Pig - Hungry Town

Disc 2:
1. Christie Allen - He's My Number One
2. Martin Plaza - Concrete & Clay
3. The Expression - With Closed Eyes
4. Daryl Braithwaite - One Summer
5. Kim Hart - Love At First Night
6. Redgum - I've Been To Bali Too
7. James Reyne - Motor's Too Fast
8. Mi-sex - Blue Day
9. Renee Geyer - Say I Love You
10. 1927 - That's When I Think Of You
11. Little River Band - Down On The Border
12. Dynamic Hepnotics - Gotta Be Wrong (Way To Love)
13. Jon English - Carmilla
14. Swanee - If I Were A Carpenter
15. Noiseworks - Touch
16. Moving Pictures - Winners
17. Eurogliders - We Will Together
18. Real Life - Catch Me I'm Falling
19. Hoodoo Gurus - Bittersweet
20. Rose Tattoo - I Wish

Australian Pop of the 80's: What's My Scene: Vol 3 [2010]

Disc 1:
01. Hoodoo Gurus - What's My Scene
02. Jo Kennedy - Body & Soul
03. Machinations - Do To You
04. Player (1) - Space Invaders
05. Dragon - Cry
06. The Party Boys - He's Gonna Step On You Again
07. Little River Band - The Other Guy
08. The Sunnyboys - You Need A Freind
09. Daryl Braithwaite - All I Do
10. Moving Pictures - Bustin' Loose
11. Jenny Morris - You I Know
12. Mondo Rock - Summer Of '81
13. Edith Bliss - If It's Love You Want
14. 1927 - You'll Never Know
15. Richard Clapton - I Am An Island
16. Men At Work - It's A Mistake
17. Peter Blakeley - Crying In The Chapel
18. Pseudo Echo - Listening
19. Chantoosies - Kiss 'n' Tell
20. The Reels - This Guy's In Love With You

Disc 2:
01. Uncanny X-Men - Everybody Wants To Work
02. Cheetah - Spend The Night
03. V Capri - Haunting Me
04. John Farnham - Pressure Down
05. Mi-Sex - Castaway
06. The Cockroaches - She's The One
07. Goanna - Solid Rock
08. The Venetians - So Much For Love
09. Mental As Anything - Come Around
10. Boom Crash Opera - Onion Skin
11. The Allniters - Love And Affection
12. Billy Field - You Weren't In Love With me
13. The Church - The Unguarded Moment
14. Eurogliders - The City Of Soul
15. Jimmy Barnes - Too Much Ain't Enough Love
16. Marcia Hines - Your Love Still Brings Me To My Knees
17. Ross Wilson - Bed Of Nails
18. Divinyls - Pleasure And Pain
19. Noiseworks - Take Me Back
20. Sharon O'Neill - Losing You

Australian Pop of the 80's: Run To Paradise: Vol 4 [2012]

Disc: 1
1. Choirboys - Run to Paradise
2. The Cockroaches - Double Shot (Of My Baby's Love)
3. Mi-Sex - People
4. 1927 - If I Could
5. Allniters - Hold on
6. Tim Finn - Through the Years
7. Solid Citizens - Singing in the Shower
8. Rick Springfield - Don't Talk to Strangers
9. Mental As Anything - Rock and Roll Music
10. Doug Parkinson - the Sun Ain't Gonna Shine Anymore
11. Hoodoo Gurus - Bittersweet
12. Swanee - Temporary Heartache
13. Models - Evolution
14. Broderick Smith's Big Combo - Faded Roses
15. Divinyls - Science Fiction
16. Black Sorrows - Chained to the Wheel
17. Globos - the Beat Goes on
18. Dear Enemy - the Good Life
19. Richard Clapton - Glory Road
20. John Farnham - a Touch of Paradise

Disc: 2
1. Eurogliders - Heaven (Must Be There)
2. Full Marks - Break Down the Walls
3. Uncanny X Men - 50 Years
4. Wa Wa Nee - Stimulation
5. Little River Band - Love Is a Bridge
6. Psuedo Echo - Don't Go
7. Jon English - Some People
8. The Angels - Eat City
9. Angry Anderson - Suddenly
10. Pat Wilson - Strong Love
11. James Reyne - Hammerhead
12. I'm Talking - Trust Me
13. Men at Work - Dr Heckyl & Mr Jive
14. Painters & Dockers - Nude School
15. Olivia Newton John - Twist of Fate
16. Wide Boy Youth - Busy Bleeding
17. Mondo Rock - Come Said the Boy
18. Sharon O'Neil - How Do You Talk to Boys
19. Jo Jo Zep & the Falcons - Walk


Скачать mp3 этого исполнителя. ВСЕ полные альбомы + хиты 2017 Совершенно бесплатно!
Скачать VA - Australian Pop Of The 60's, 70's, 80's - Collection (2007-2012) mp3 бесплатно:
Mp3passion.net Facebook.com Vkontakte.ru
Уважаемый посетитель, Вы зашли на сайт как незарегистрированный пользователь.
Мы рекомендуем Вам зарегистрироваться либо войти на сайт под своим именем.
Информация
Посетители, находящиеся в группе Guest, не могут оставлять комментарии к данной публикации.