Hawkwind - Hall Of The Mountain Grill (1974) [Remastered 2001]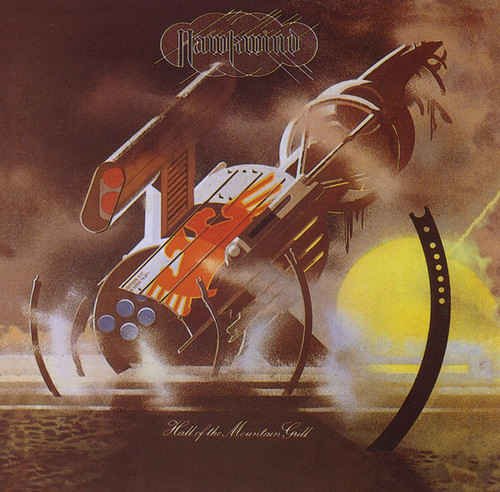 Artist
: Hawkwind
Title Of Album
: Hall Of The Mountain Grill
Year Of Release
: 2001 [1974]
Label (Catalog#)
: EMI [7243 5 30035 2 4]
Country
: England
Genre
: Space Rock, Psychedelic Rock, Prog Rock
Quality
: Mp3 / FLAC (tracks,scans)
Bitrate
: CBR 320 kbps / Lossless
Time
: 58:36
Full Size
: 188 mb / 389 mb
With their fifth album, 'Hall of the Mountain Grill,' which was released on Sept. 6, 1974, Hawkwind had the unenviable task of following up what is, perhaps, the definitive Hawkwind album, the classic 'Space Ritual.' That album, recorded live, presented the band in full flight, in their natural habitat, something their previous three studio efforts were unable to do fully. On 'Hall of the Mountain Grill', produced by the band along with Roy Thomas Baker and Doug Bennett, Hawkwind became more comfortable in the studio, and make it work to their advantage, with what may be their finest studio effort.

Though the band had recently lost the services of both Dik Mik (on electronics) and Robert Calvert as lyricist, Dave Brock and company were more than up for the new challenge. "'Hall of the Mountain Grill' is the best studio album I did with Hawkwind," bassist Lemmy said in the Carol Clerk book 'The Saga of Hawkwind.' "It was quite to the front. I think it stands the test of time."

The man has a point. The album ebbs and flows perfectly as the harder-edged rockers flow seamlessly among the spacier numbers. Things kick off with a genuine classic, 'The Psychedelic Warlords (Disappear in Smoke),' From the opening riff through the catchy chorus, it's a welcome invitation to the LP. Their trademark surging riffage is front and center, awash in psychedelic colors. Just as the embers are still glowing from its fire, the band sail off into more ethereal terrain with 'Wind of Change.' New recruit Simon House, formerly of the band High Tide, shines on both Mellotron and violin, adding a crucial element to the band's sound and somewhat taking them out of their comfort zone, adding a new sonic color to the mix in the process.
TRACKLIST:
1 The Psychedelic Warlords (Disappear In Smoke) 6:51
2 Wind Of Change 5:06
3 D-Rider 6:15
4 Web Weaver 3:15
5 You'd Better Believe It 7:13
6 Hall Of The Mountain Grill 2:23
7 Lost Johnny 3:30
8 Goat Willow 1:37
9 Paradox 5:27
Bonus Tracks
10 You'd Better Believe It (Single Version Edit) 3:21
11 The Psychedelic Warlords (Disappear In Smoke) (Single Version) 3:56
12 Paradox (Remix Single Edit) 4:02
13 It's So Easy 5:20
Dave Brock – lead guitar, 12-string guitar, synthesizer, organ, harmonica, vocals
Lemmy (Ian Kilmister) – bass, vocals, guitars
Simon House – synthesizer, Mellotron, violin
Nik Turner – saxophone, oboe, flute, vocals
Simon King – drums, percussion
Del Dettmar – keyboards, synthesizer, kalimba
Скачать mp3 этого исполнителя. ВСЕ полные альбомы + хиты 2019 Совершенно бесплатно!
Скачать Hawkwind - Hall Of The Mountain Grill (1974) [Remastered 2001] mp3 бесплатно:
Mp3passion.net Facebook.com Vkontakte.ru
Информация
Посетители, находящиеся в группе Guest, не могут оставлять комментарии к данной публикации.
Уважаемый посетитель, Вы зашли на сайт как незарегистрированный пользователь.
Мы рекомендуем Вам зарегистрироваться либо войти на сайт под своим именем.