Russian DJs In Da House Vol. 110 (2016)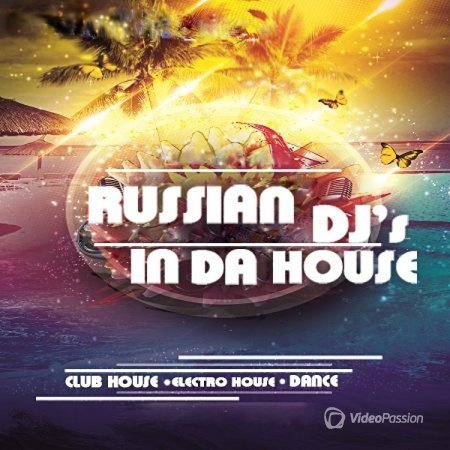 Исполнитель
: VA
Альбом:
Russian DJs In Da House Vol. 110
Жанр
: Electro House, Dance, Club House
Год выпуска:
2016
Тип Рипа:
mixed by tracks
Формат
: MP3
Битрейт
: 320 кб/c
Размер
~ 334 Mb
Треклист
01. Alex Gaudino vs. V.Franchesko & Keep Noise - I Love Storm (Dj Kuznetsoff mashup)
02. Benny Benassi - Satisfaction (DJ Kirillich & DJ Pride Dub Remix)
03. Dimitri Vegas , Like Mike & VINAI vs. W&W & Blasterjaxx - Louder Bowser (DJ Virus Mash Up)
04. DJ Vini ft. Frankie Young - Reason
05. DJ Dnk & Keem - What Are You (DJ Akhmetoff Mashup)
06. Eiffel 65 vs. Alexx Slam - Blue Da Ba Dee (Sir Art & Tony Sky Mash Up)
07. Felix Jaehn vs Felguk - Aint Nobody (DJ Stylezz, DJ Agamirov MashUp
08. Funkstar Deluxe - When I Think Of You (DJ Noiz Spring Extended Remix)
09. David Guetta, Showtek, Magic, Sonny Wilson vs Storm DJs - Sun Goes Down is the way (DJ Vadim Adamov Mash Up)
10. Funky Dee Feat Mieczyk - Feel It Your Soul (Gumanev, Tim Cosmos Remix)
11. Gorgon City - Imagination (DJ Nejtrino & DJ Baur Radio Mix)
12. Gorgon City feat. Romans - Saving My Life (Kolya Funk & Eddie G Remix)
13. Kygo - Here For You (Nejtrino & Baur Radio Mix)
14. Martin Garrix & Firebeatz vs. Dave Silcox & DOD feat Little Nikki vs. Flatdisk feat Todd Nielsen - Systematic Overdose (DJ Eterno MashUp)
15. Imany feat Filatov & Karas - Don't Be So Shy (Extended Mix)
16. Mason vs Princess Superstar - Perfect (DJ Kolya Funk & DJ Prokuror Radio Remix)
17. Morandi ft. Inna - Summer In December (DJ Amice Remix)
18. Party Favor & Lil John vs Sean Paul - Let's Get Fucked Up Fiesta (DJ Niki & DJ Alex Rio Twerk Edit)
19. Noferini & Marini Feat.Criminal Vibes - House Music (Alex Shik & Alexx Slam Remix)
20. Nejtrino, Inners & Yan Space - Supernova (DJ Baur Remix)
21. Ray Charles vs Rebel - Music Hit The Road Jack (Fabien Jora Festival Mashup)
22. Rihanna vs. MY - Umbrella (DJ Kuznetsoff vs DJ Stanislav Butorin Mash Up)
23. Shawn Mendes - Stitches (DJ Amice remix)
24. Sidney Samson vs Gwise vs. Firebeatz & DubVision feat. Ruby Prophet - Guess Who's Back (DJ Eterno Mash Up)
25. Tiesto & Vassy vs. Garmiani - Secrets 15 (DJ Akhmetoff Mashup)
26. Базиль - Ай-яй-я (Invisible Dye Project Remix)
27. Woozdyz vs Douglas Tavares - Twooerk (DJ Vadim Adamov Mash Up)
28. Дубки Band vs. Ingo & Micaele & Mickey Light - Бигуди (DJ Ilya Verano Re-Work)
29. Ленинград - Отпускная (DJ Vini Remix)
30. Леонид Кострица - Первым делом самолеты (DJ Vengerov & Fedoroff feat DJ Luka Remix)
31. Надюля vs. Mikis, Lil Jon - Почувствуй (Dj Martynoff Mashup)
32. Нюша - Где Ты Там Я (Leo Burn Feat. Alexx Slam, Art Fly Remix)
33. Стрелки & Kolya Funk - Ты бросил меня (DJ V.Terkin MashUp)
34. Юлианна Караулова - Ты не такой (Tony Sky Club mix)
Скачать Russian DJs In Da House Vol. 110 (2016)
Скачать mp3 этого исполнителя. ВСЕ полные альбомы + хиты 2019 Совершенно бесплатно!
Скачать Russian DJs In Da House Vol. 110 (2016) mp3 бесплатно:
Mp3passion.net Facebook.com Vkontakte.ru
Информация
Посетители, находящиеся в группе Guest, не могут оставлять комментарии к данной публикации.
Уважаемый посетитель, Вы зашли на сайт как незарегистрированный пользователь.
Мы рекомендуем Вам зарегистрироваться либо войти на сайт под своим именем.