VA - The Future Sound of Jazz Vol. 1-12 (1995-2012)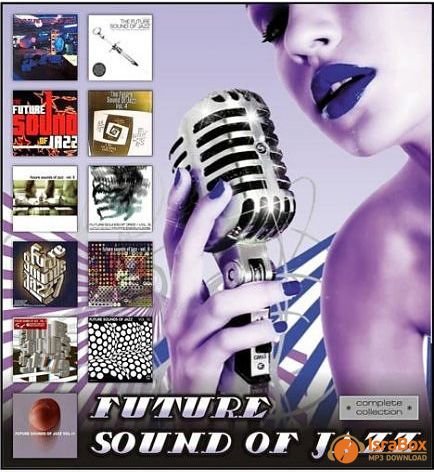 Artist
: Various Artists
Title Of Album
: The Future Sound of Jazz Vol. 1-12
Year Of Release
: 1995-2012
Label
: Compost Records
Genre
: Future Jazz, Downtempo, Acid Jazz, Nu Jazz
Quality
: Mp3 / FLAC (tracks +.cue,log)
Bitrate
: CBR 320 kbps / Lossless
Time
: 18:17:19
Full Size
: 2.55 gb / 6.92 gb
Volume 1 [1995]
1 Jimi Tenor - Theme Sax (3:29)
2 Patrick Pulsinger - City Lights Pt.2 (City Of Starsign) (5:57)
3 Hunch - Is This The Place? (5:16)
4 The Mighty Bop - Vibrations Mystiques (4:14)
Featuring - Ingrid De Lambre
5 Workshop - I Wish I Had You (2:47)
6 Vango Noir - On The Sly (6:31)
7 Karma - High Priestess (Tarot Session) (4:52)
8 Planet Jazz - Mucho Chocolate (3:02)
9 Sapien - Gato De Oro (High Moon Mix) (10:20)
Remix - Rockers Hi-Fi
10 The Deep Child - Sierra (Deep Underworld Mix) (5:11)
11 Rising High Collective feat. Plavka - Move Ya (Born Free-Coldcut-Mix) (7:57)
Remix - Coldcut
12 Wagon Christ - Inside Out (10:26)
13 Shantel - Nova Sola (Bahia Blunt) (4:32)
Volume 2 [1996]
1 Sven Van Hees - Tabla Rasa (7:07)
2 The Gentle People - Journey (Aphex Twin Care Mix) (10:05)
Remix - Aphex Twin
3 Nightmares On Wax - Nights Interlude (4:35)
4 max 404 - Quiddity (Last Visit) (5:54)
5 Fauna Flash - Sexual Attraction (6:59)
6 12-10 Series MK 1 - All That Jazz (5:46)
7 Chaser - Sides Of Iron (7:14)
8 The Sabres Of Paradise - Bubbles & Slide (Nightmares On Wax Mix) (6:18)
Remix - Nightmares On Wax
9 Patrick Pulsinger & Erdem Tunakan - P.M.2/SM2 (4:16)
10 Tortoise - Ry Cooder (6:54)
11 B.Low - On Flute 1992 Live (3:50)
Featuring - Richard Dorfmeister
12 µ-Ziq - Hector's House (4:18)
13 Turntable Terranova - Tranquilizer (2:35)
Volume 3 [1997]
1.1 max 404 - Quiddity (Second Visit) (5:03)
1.2 RAC - Scuba (7:54)
1.3 Move D - Hurt Me (6:43)
1.4 Metamatics - Skunk Me (8:00)
1.5 Funkstörung - Mush (4:39)
1.6 Cool Blu - Aqua Libra (Down Beat Mix) (6:49)
1.7 Garsaaidi - Frank Zaffa (Lascelles Mix) (5:48)
Remix - Lascelles
1.8 Daniel Ibbotson - Split Into Fractions (4:56)
1.9 Gescom - Keynel 1 (8:10)
1.10 Mike Paradinas - Shponk (5:03)
1.11 Taran - B 52 (4:33)
2.1 Fauna Flash - Carsual Swing (6:32)
2.2 London Elektricity - Sister Stalking (6:42)
2.3 DJ Dara - Smoke (4:51)
2.4 Peter Nice Trio - Harp Of Gold (5:14)
2.5 Beanfield - Code Of Confidence (5:53)
2.6 Turntable Terranova - Fiasko ('96 Remix) (6:10)
2.7 Chicks With Dicks - Wurst (5:45)
2.8 Four Ears - My Way (Fusion Mix) (6:44)
2.9 Jimpster - Playtime (7:21)
Volume 4 [1997]
1.1 Pressure Drop - Unify (Ripped) (4:52)
1.2 Nautilus - Nine Miles (6:54)
1.3 Rainer Trüby Trio - Donaueschingen (6:25)
1.4 As One - The Hideout (6:45)
1.5 Tosca - Ocean Beat (5:30)
1.6 Cheever J. Loophole - Suspension (4:37)
1.7 Reflection - Transparent (4:52)
1.8 Alex Gopher - Est-Ce Une Gopher Party, Baby (6:00)
1.9 Karma - The Specialist (6:50)
2.1 Tongue - Notion (5:20)
2.2 Juryman - Playground (6:01)
2.3 Vibe Nations - New Movements (6:40)
2.4 Jazzanova - Coffee Talk (5:55)
2.5 Extended Spirit - Pressure (6:32)
2.6 A Forest Mighty Black - Everything (7:57)
2.7 Hacienda - Electric Diva (6:12)
2.8 Ian O'Brien - Dayride (10:19)
2.9 Deadly Avenger - Malpaso (4:50)
Volume 5 [1998]
1-01 Chaser - Life In Loisaida (8:59)
1-02 Bjørn Torske - Ode To A Duck (4:07)
1-03 Nek-Lok - Escobar Blues (8:08)
1-04 Earth Bound - Reggie's Escape (7:03)
1-05 Lulu Mushi - Blue Sonoko (4:44)
1-06 Ill Dependents - The Shake Up (3:55)
1-07 Chroma Oscura - Glow Worm (5:05)
1-08 Cine City Feat. Wai Wan - Plants, Animals, H20 (6:14)
1-09 Max Brennan - 1300 Milliseconds Of Brass (7:19)
2-01 Fauna Flash - Taurus (6:00)
2-02 Mayhem - Nasty Funk (7:29)
2-03 Azymuth - Tempos Atraz (APE Remix) (5:32)
2-04 King Kooba - Freakmeister (3:55)
2-05 Force & Paul - Casablanca (5:50)
2-06 Extended Spirit - Solid Water (5:49)
2-07 Marschmellows - Reloaded (6:00)
2-08 Boom Bip & DJ Osiris - Voodoo Science (5:50)
2-09 Nonplace Urban Field - Seismic Simmer (5:01)
2-10 Calm - Running On The Sand (5:23)
Volume 6 [1999]
1 Beatless - Vertigo (6:27)
2 Victor Simonelli - Bateria (Latin Impressions) (9:35)
3 Christian Zimmerman - Diary Of A Lost Girl (7:12)
4 Wei Chi - Don't Know (4:36)
5 United Future Organization - The Planet Plan (Yellow Productions Dub) (7:26)
Remix - Chris The French Kiss
6 Fauna Flash - At The Movies (5:56)
7 Restless Soul - Son Of Ra Ra (7:04)
Featuring - Nathan Haines
Mixed By - Toni Economides
8 Earth Bound - I See The Sun (5:57)
9 Modaji - Underwater Pressure (8:16)
Cello - Seiji
10 Ian O'Brien - Moonlight (6:35)
11 Tosca - Chocolate Elvis (Boozoo Bajou Soul Suffer Version) (4:48)
Remix - Boozoo Bajou
Volume 7 [2000]
1 Kimbu Kimra - Raise The Dead (Atjazz Remix) (6:00)
Remix - Atjazz
2 Universal Principles - Guyana (8:32)
3 Stephane A. - Listen Luv (6:28)
4 Peter Kruder - Root Down (7:17)
5 DJ Shuriken - Psycked Up Muzak (5:10)
6 The Illdependents - Innacitytears (3:41)
7 El Gran Lapofsky - Recess (4:49)
8 Burnt Friedman - Octrahedal Spherical Caffufle (45 To 33 Rpm Slow Motion Version) (4:47)
9 The Amalgamation Of Soundz - Phuture Soundz (5:31)
10 Solar House - Universal (Part One) (6:50)
11 Salvador Group - Crosswinds (4:50)
12 Jolly Mukherjee With Madras Cinematic Orchestra - Kirwani (Badmarsh & Shri Remix) (6:41)
Remix - Badmarsh & Shri
13 Bonobo - Dismantling Frank (5:03)
Volume 8 [2001]
1 Soulpatrol - Theme (Future Sounds Version)
2 Moonstarr - Dust
3 Shawn Lee - Happiness (Ashley Beedle's Secret Beach Bossa 7'' Mix)
Remix - Ashley Beedle
4 Slow Supreme - Full Kennedy Breakdown
5 Dan Curtin - Spaceman (Recloose Remix)
Remix - Recloose
6 Atjazz - Wrong Type Of Day
7 Jon Kennedy - Smith Vs. Smith
8 Kaos - Around In Circles
9 Attica Blues - The Quest (Beanfield Remix)
Featuring - Roger Robinson
Remix - Beanfield
10 Soul FC - Tranespotting
11 The Underwolves - Bird Song (Earthbound Remix)
Remix - Earthbound
12 Butti 49 - Spiritual Rotations
Volume 9 [2003]
1 Hird - Keep You Kimi (6:29)
2 Season - Juice (5:15)
3 Stateless - Leave Me Now (7:14)
4 Foremost Poets - Open Season (Main Mix) (8:57)
5 Joseph Malik - Futuristica (Grand Unify Vox Remix) (8:13)
6 Triplane - Something To Get Excited About (4:52)
7 Alexander Kowalski - Along (7:25)
8 Yellowtail - Moa (6:14)
9 Dntel - Anywhere Anyone (4:36)
10 Monassa - Days & Nights (5:35)
11 Julius Kammerl - Venue (6:02)
12 Savath & Savalas - Folk Song For Cello (4:42)
Volume 10 [2005]
1 Fred Everything - Elevate (Maurice Fulton Remix) (5:46)
Featuring - The New Mastersounds
Remix - Maurice Fulton
2 Povo - Uam Uam (Moonstarr Remix) (5:15)
Remix - Moonstarr
3 Ricardo Villalobos - Fools Garden (Black Conga) (7:06)
4 Hot Chip - Playboy (5:09)
5 Per Cussion - Manhattan Jungle (5:08)
6 Syclops - Fairlight Sunrise (6:05)
7 Gabriel Ananda - Süssholz (Ben Mono's Low Level Mix) (6:42)
Remix - Ben Mono
8 Metaboman - Role For Kale (7:27)
9 Origami - First Note (4:18)
10 Cal Tjader - Los Bandidos (Michael Reinboth Remix) (4:47)
Remix - Michael Reinboth
11 General Electrics - Terms And Conditions Apply (The Entity Remix) (4:29)
Remix - The Entity
12 Sébastien Tellier - La Ritournelle (7:35)
Volume 11 [2007]
1 Joash - Salome (6:25)
2 Koop - Drum Rhythm A (Drumlesson Mix) (7:01)
Remix - Christian Prommer
3 Solomun & Stimming - Eiszauber (8:37)
4 Yannah Valdevit - Superlight (4:43)
5 James Din A4 - Mit 66 Jahren (6:15)
6 Zeynep Erbay - Flowers (3:04)
7 The Invisible Session - Till The End (Panoptikum 2007 Remix) (7:59)
Remix - Panoptikum
8 No Theory - Strickly Instrumental (5:46)
9 Wojtek Urbanski - Violet Violin (Maximillian Skiba Remix) (5:27)
Remix - Maximilian Skiba
10 Dennis Ferrer - Son Of Raw (6:37)
11 Blackjoy - Moustache (Prins Thomas Diskomika) (8:30)
Remix - Prins Thomas
12 400 Blows - Movin' (Special Extended Club Remix) (6:47)
Volume 12 [2012]
1-1 Der Dritte Raum – Swing Bop (Acid Pauli's Kosmik Remix) 7:59
2-1 Anchorsong – Plum Rain 5:58
3-1 Laszlo – NRV 4:16
4-1 Ensemble Du Verre – Emily's Poem (Rupert & Mennert Snowbound Remix) 5:30
5-1 Letherette – In July Focus 2:24
6-1 Scrimshire – Home (Paper Tiger Remix) 5:51
7-1 Lo Tide – Yello Brick 4:10
8-1 Ensemble Du Verre – The True Grit 6:39
9-1 Sepalcure – Fleur 4:50
10-1 Roberto Di Gioia – Moon And Space 1:12
11-1 Holmby Hills – Jazz 4.2 5:20
12-1 Basti Grub & Mike Trend – Afrika Am Strand (Short Version) 5:38
13-1 Andreas Saag Featuring Filip Leyman – Leslies Vision 10:20
1-2 Wareika – Jazz Shaman 6:22
2-2 Glimmer Twins, The Presents Disko Drunkards, The – Snatch 4:55
3-2 Eden – Uncountable Doors (A Green Meadow Remix) 8:15
4-2 Hypnolove – Midnight Cruising (Mickey Moonlight Dub) 4:55
5-2 Dave Aju & Sol Percussion Ensemble, The – Vibra 8:11
6-2 Deep Space Orchestra – Sir Shina 6:59
7-2 Ragoût De Lapin – Ginger Vibes (Short Version) 5:42
8-2 Jupiter Tuning Center – Vodka Sour 6:42
9-2 Santos – La Mediana 9:16
10-2 Bibi Tanga – Be Africa 9:33
11-2 Timo Garcia & Manu Delago – The Hang Track Pt. II (Rupert & Mennert Imploded Remix) 3:34
Скачать mp3 этого исполнителя. ВСЕ полные альбомы + хиты 2019 Совершенно бесплатно!
Скачать VA - The Future Sound of Jazz Vol. 1-12 (1995-2012) mp3 бесплатно:
Mp3passion.net Facebook.com Vkontakte.ru
Информация
Посетители, находящиеся в группе Guest, не могут оставлять комментарии к данной публикации.
Уважаемый посетитель, Вы зашли на сайт как незарегистрированный пользователь.
Мы рекомендуем Вам зарегистрироваться либо войти на сайт под своим именем.