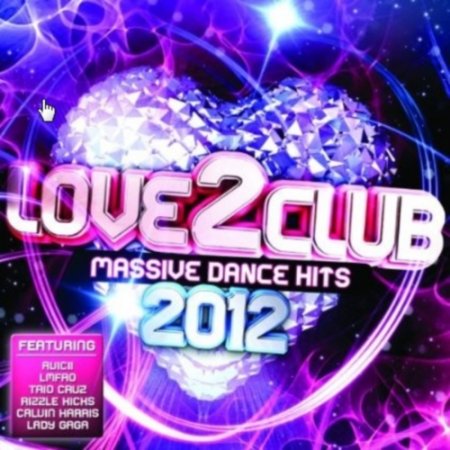 Исполнитель:
VA
Альбом:
Love2Club 2012 (2012)
Лейбл:
Umtv
Жанр,стиль:
Dance
Дата релиза:
27/01/2012
Битрейт аудио:
320 kbps / 44100Hz / Joint Stereo
Продолжительность:
133:35 min
Тип рипа:
mixed 2 CD +
*cueАудио кодек:
MP3
Размер:
~ 242 Mb
Трэклист

Disc One
1. Levels-Avicii [Radio Edit]
2. Sexy And I Know It-LMFAO [Album Version]
3. Marry The Night-Lady Gaga [David Jost & Twin Radio Mix]
4. Big In Japan-Martin Solveig Feat. Dragonette & Idoling!!! [Ziggy Stardust Remix]
5. Le Bump-Yolanda Be Cool Feat. Crystal Waters [Lockout's Big Bump Mix]
6. Who You Are-Jessie J [Seamus Haji Remix / Radio Edit]
7. Kiss The Stars-Pixie Lott
8. The Saturdays Megamix-The Saturdays
9. Off The Record-Tinchy Stryder Feat. Calvin Harris & Matthew Burns [Extended Explicit]
10. Turn This Club Around-R.I.O. Feat. U-Jean [Video Edit]
11. Hearts In The Air-Eric Saade [The Alias Remix Edit]
12. Party In My Head-September [Punchy Remix]
13. Good Feelin'-Mick Lion [Bbop And Roksteadi Radio Edit]
14. When The Sun Comes Up-Heidi Anne Feat. T-Pain, Rick Ross, Lil Wayne & Glasses Malone [Di Mario Edit]
15. I'm Day Dreaming-Redd, Akon Feat. Snoop Dogg
16. It Girl-Jason Born [Bbop And Roksteadi Radio Mix]
17. Brand New Bitch-Anjulie
18. Pum Back-Tradelove [Radio Edit]
19. Memory-Steve Smart [Radio Edit]

Disc Two
1. Alone Again-Alyssa Reid Feat. Jump Smokers [UK Radio Edit]
2. Troublemaker-Taio Cruz
3. Mama Do The Hump-Rizzle Kicks
4. Hold On-Skepta [UK Radio Edit]
5. Still Speedin'-Sway Feat. Kano [Radio Edit]
6. Moves Like Jagger-Maroon 5 Feat. Christina Aguilera [Soul Seekerz Radio Edit]
7. Feel So Close-Calvin Harris [Radio Edit]
8. Get Back (ASAP)-Alexandra Stan [UK Radio Edit]
9. Reaching Out-Nero [Radio Edit]
10. Flashing Lights-Chase & Status Feat. Sub Focus & Takura [Radio Edit]
11. Twilight-Cover Drive [Nicola Fasano & Steve Forest Club Mix]
12. Warzone-The Wanted [Basto Remix Radio Edit]
13. U Know It Ain't Love-R.J. Feat. Pitbull [David May Radio Edit]
14. Dominoes-Wildboyz [Chuckie Remix Edit]
15. No One-Maverick Sabre
16. Mr. Romeo-Emii Feat. Snoop Dogg [Radio Edit]
17. Turn Me On-Club Madness [Bbop & Rocksteadi Edit]
18. Get Outta That Corner-Lucky Charmes Feat. Perry Mystique & Natalie ''May'' Walker [Dave Silcox Remix Edit]
19. Dancin'-Aaron Smith Feat. Luvli [Laidback Luke Remix]





Скачать mp3 этого исполнителя. ВСЕ полные альбомы + хиты 2017 Совершенно бесплатно!
Скачать Love2Club 2012 (2012) mp3 бесплатно:
1.
Скачать/Download Love2Club 2012 (2012)
2.
Скачать/Download Love2Club 2012 (2012)
3.
Скачать/Download Love2Club 2012 (2012)
4.
Скачать/Download Love2Club 2012 (2012)
Mp3passion.net Facebook.com Vkontakte.ru
Уважаемый посетитель, Вы зашли на сайт как незарегистрированный пользователь.
Мы рекомендуем Вам зарегистрироваться либо войти на сайт под своим именем.
Информация
Посетители, находящиеся в группе Guest, не могут оставлять комментарии к данной публикации.