Hot Tuna - Steady As She Goes (2011)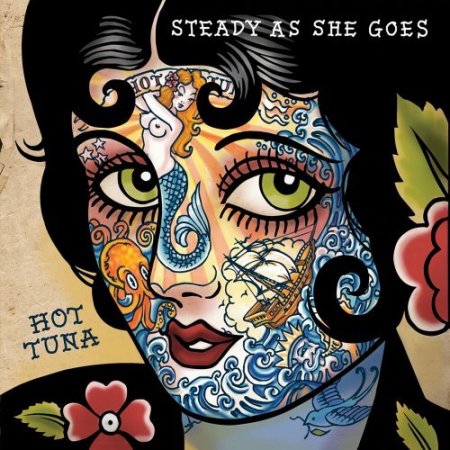 Artist
: Hot Tuna
Title Of Album
: Steady As She Goes
Year Of Release
: 2011-04-05
Genre
: Blues, Blues Rock
Label
: Red House Records
Quality
: 320 kbps
Tracks
: 12
Time
: 54:32 min
Size
: 124 MB
Tracklist:

01 - Angel of Darkness
02 - Children of Zion
03 - Second Chances
04 - Goodbye to the Blues
05 - A Little Faster
06 - Mourning Interrupted
07 - Easy Now Revisited
08 - Smokerise Journey
09 - Things That Might Have Been
10 - Mama Let Me Lay It On You
11 - If This is Love
12 - Vicksburg Stomp


About the Artist

Rock and Roll Hall of Famers Jorma Kaukonen and Jack Casady are the founders and continuing core members of the iconic blues-roots band Hot Tuna. Having played music with each other since they were kids growing up in Washington D.C., no two musicians have more consistently influenced American music and shaped the foundation of rock & roll, roots and blues than these two legends.

In the mid 1960's, Jorma and Jack were two of the original members of The Jefferson Airplane, creating a unique sound that became the soundtrack of the era.

While in The Jefferson Airplane, Jorma and Jack remained loyal to the blues, jazz, bluegrass and folk influences of the small clubs and larger venues they had learned from years before. Tirelessly performing together at clubs in the Bay Area, often after having played a set with the Airplane. Eventually, they landed a record contract and recorded and album before they decided to name their band Hot Tuna. With it, they launched on an odyssey which has continued for more than four decades.

Along the way, they have been joined by a succession of talented musicians, all of whom meld in to Jorma and Jack's place in the musical spectrum as two of America's most important rock musicians. Rolling Stone has named Jorma one of the top guitarists of all time, while Jack is considered one of today's most innovative electric bass players, having played with such legends as Ray Charles, Jimi Hendrix and the Grateful Dead.

Today, as their sound continues to evolve, Jorma and Jack are often joined in their Hot Tuna performances by the mandolin virtuoso Barry Mitterhoff. A veteran of bluegrass, Celtic, folk, and rock-influenced bands including Tony Trischka and Skyline, Barry's influences seamlessly mesh with Hot Tuna as if he's been there from the beginning.

Anchoring the rhythm section along with Jack is the brilliant and exciting young drummer Skoota Warner. Joining the band in 2009, his stunning career already included work with a virtual who's who of rock, funk, blues, and jazz musicians, including Cyndi Lauper, Matisyahu, Mary J. Blige and Santana. Now with Hot Tuna, Jorma says he has "never felt more at home with a drummer than [he does] now with Skoota."

Jorma and Jack certainly could not have imagined, let alone predicted, where playing would take them. Aside from their touring, both are teachers at Jorma's world renowned Fur Peace Ranch Guitar Camp as well as accomplished solo performers. Jack released his first solo CD, Dream Factor, on Eagle Records in 2003. Jorma has released many solo albums over the years, including his legendary album Quah, his Grammy-nominated Blue Country Heart as well as two highly acclaimed releases on Red House Records, Stars in My Crown (2007) and River of Time (2009).

It's been a long and amazing road and after four decades of music, Hot Tuna continues to find new and interesting turns in its path forward, putting their distinct stamp on American music.

Product Description

Hot Tuna is back with Steady As She Goes, their first all-new studio album in 20 years! Founding members Jorma Kaukonen and Jack Casady masterfully blend Americana rock with blues and acoustic folk on a record that hits their full spectrum of styles from electric and acoustic Hot Tuna to their days in Jefferson Airplane. Reaching a zenith of their historic career, Steady As She Goes is an absolute masterpiece.

During their more than four decade long career Jorma and Jack have created some of the most significant music of our time and Steady As She Goes proves that they remain one of the most innovative bands in American music. Recorded at Levon Helm's studio and produced by Grammy-winning producer Larry Campbell, the album captures the energy of their live performances with Barry Mitterhoff on mandolin, drummer Skoota Warner (Cyndi Lauper, Matisyahu, Santana) as well as Campbell joining them on guitar, fiddle, organ and vocals.

With their amps turned up to eleven, Hot Tuna rips into the blistering opener "Angel of Darkness" and puts the wind in your sails with the `hop on your Harley and take to the road' free-spirit jams like "Easy Now Revisited" and "A Little Faster." Steady As She Goes tastefully mixes in the acoustic side of Tuna with folk tunes like the moving "What Might Have Been" and the reflective "Second Chances." Along with masterful covers of the blues-rock infused "If This is Love" and a funky rendition of Reverend Gary Davis' "Children of Zion" Steady As She Goes is an iconic record that Hot Tuna fans have been waiting for!
Скачать mp3 этого исполнителя. ВСЕ полные альбомы + хиты 2017 Совершенно бесплатно!
Скачать Hot Tuna - Steady As She Goes (2011) mp3 бесплатно:
1.
Скачать/Download Hot Tuna - Steady As She Goes (2011)
2.
Скачать/Download Hot Tuna - Steady As She Goes (2011)
Mp3passion.net Facebook.com Vkontakte.ru
Уважаемый посетитель, Вы зашли на сайт как незарегистрированный пользователь.
Мы рекомендуем Вам зарегистрироваться либо войти на сайт под своим именем.
Информация
Посетители, находящиеся в группе Guest, не могут оставлять комментарии к данной публикации.