VA-Big Tunes Destination Dance (2010)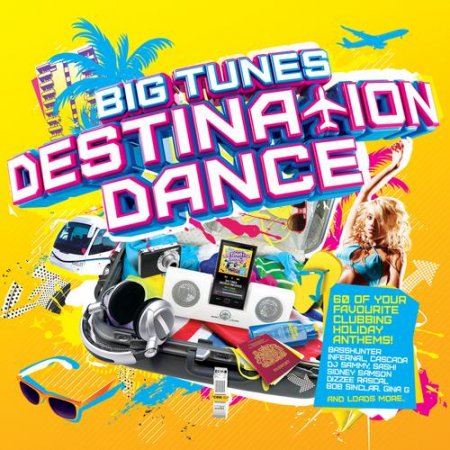 Artist:
VA
Title:
Big TunesDestination Dance
Label:
Universal
Style:
Dance
Date:
07.06.2010
Quality:
VBR kbps / 44,1kHz / Stereo
Tracks:
60
Size:
~ 273Mb
Треклист:

CD1
01.Infernal - From Paris To Berlin
02.Basshunter - Now You're Gone
03.DJ Sammy & Yanou Feat. Do - Heaven
04.Cascada - Miracle
05.Alice Deejay - Better Off Alone
06.September - Cry For You
07.Eric Prydz - Call On Me
08.PJ Feat. Velvet - Stereo Love
09.Corona - Rhythm Of The Night
10.The Time Frequency - Real Love
11.Gala - Freed From Desire
12.Cappella - U Got 2 Let The Music
13.Ann Lee - 2 Times
14.SASH Feat. Tina Cousins - Mysterious Times
15.Angel City Feat. Lara McAllen - Love Me Right
16.Ian Van Dah - Castles In The Sky
17.DHT Feat. Edmee - Listen To Your Heart
18.Darude - Sandstorm
19.Underworld - Born Slippy
20.York - On The Beach

CD2
01.Sidney Samson Feat. Wizard Sleeve - Riverside Lets Go
02.Dizzee Rascal - Holiday
03.Eric Prydz - Pjanoo
04.Booty Luv - Boogie 2Nite Seamus Haji Big Love Edit
05.Alex Gaudino Feat. Crystal Waters - Destination Calabria
06.Fedde Le Grand - Put Your Hands Up For Detroit
07.Kid Cudi Vs Crookers - Day 'N' Nite
08.Bob Sinclar Feat. Steve Edwards - World, Hold On Children Of The Sky
09.DJ Pied Piper & The Masters Of Ceremonies - Do You Really Like It
10.Lonyo - Summer Of Love
11.Artful Dodger & Romina Johnson - Moving Too Fast
12.Phats & Small - Turn Around
13.Tim Deluxe - It Just Won't Do
14.Mylo Feat. Miami Sound Machine - Doctor Pressure
15.Supermode - Tell Me Why
16.BeatFreakz - Somebody's Watching Me HiTack Radio Edit
17.David Morales - Needin' U
18.StoneBridge Feat. Therese - Put 'Em High
JJ's Radio Edit
19.Solu Music Feat. KimBlee - Fade The Bimbo Jones Edit
20.Samim - Heater

CD3
01.Whigfield - Saturday Night
02.Gina G - Just A Little Bit
03.Scatman John - Scatman
04.SNAP - Welcome To Tomorrow
05.Eiffel 65 - Blue (Da Ba Dee)
06.Alex Party - Don't Give Me Your Life
07.Maxx - Get A Way
08.La Bouche - Sweet Dreams
09.BM Dubs Presents Mr Rumble Feat. Brasstooth & Kee Whoomph...There It Is
10.No Mercy - Where Do You Go
11.Strike - U Sure Do
12.Maxx King - We Like To Party
13.Boogie Pimps - Sunny
14.Uniting Nations - Out Of Touch
15.Cabin Crew - Star To Fall
16.Naughty Boy - Phat Beach (I'll Be Ready) Uniting Nations Remix
17.Conoga - Hot
18.Fugative - Crush (Moto Blanco Club Mix)
19.SJB Feat. Jane Wiedlin - Rush Hour Fonzerelli Hot & Sexy Remix
20.Resource - (I Just) Died In Your Arms
Скачать mp3 этого исполнителя. ВСЕ полные альбомы + хиты 2017 Совершенно бесплатно!
Скачать VA-Big Tunes Destination Dance (2010) mp3 бесплатно:
1.
Скачать/Download VA-Big Tunes Destination Dance (2010)
2.
Скачать/Download VA-Big Tunes Destination Dance (2010)
3.
Скачать/Download VA-Big Tunes Destination Dance (2010)
4.
Скачать/Download VA-Big Tunes Destination Dance (2010)
Mp3passion.net Facebook.com Vkontakte.ru
Уважаемый посетитель, Вы зашли на сайт как незарегистрированный пользователь.
Мы рекомендуем Вам зарегистрироваться либо войти на сайт под своим именем.
Информация
Посетители, находящиеся в группе Guest, не могут оставлять комментарии к данной публикации.